People spend so much time designing their bedrooms, living rooms, and kitchens. But there's one room that often gets overlooked: the bathroom.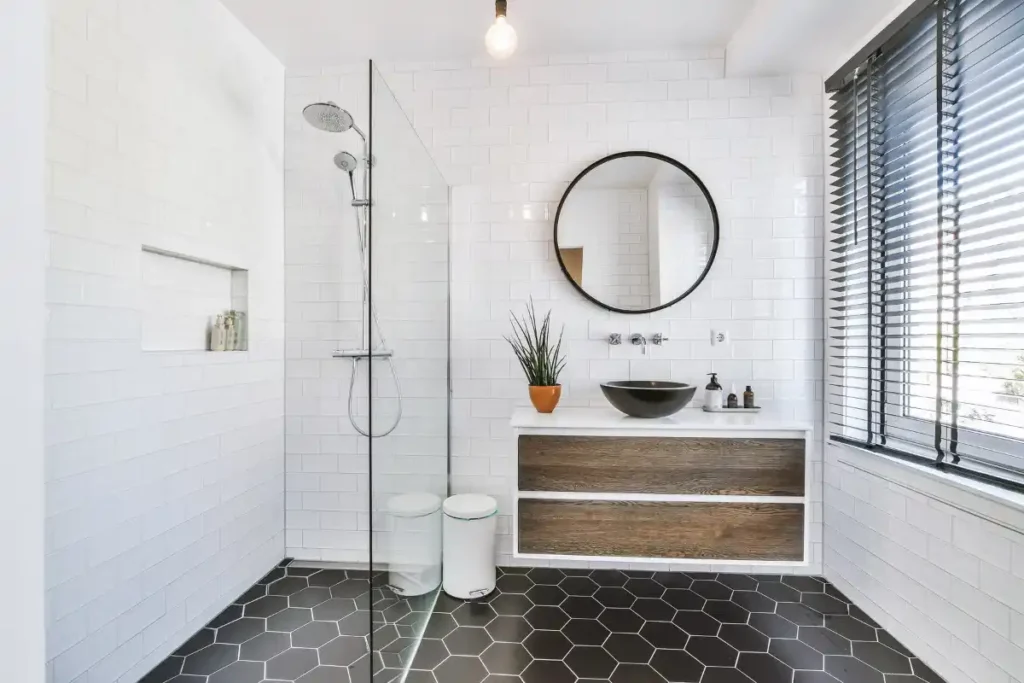 It's a common mistake, especially if you're like me and have a small bathroom.
It only takes up a little space in the first place. So, what's the point?
But when you think about it, your bathroom is one of the most essential rooms in your home. It's where you get ready for work every morning and relax after a long day.
So, if your bathroom looks gloomy and could use some TLC, why not make this space as bright and welcoming as the rest of your home?
How?
Keep reading below.
10 Tips for Making a Bathroom Brighter
Try these ten tips to make your bathroom brighter and more welcoming.
1) Add a Window
The lack of windows in your bathroom may be why it feels so dark and gloomy. Windows can bring natural light into your space without installing artificial lighting.
The bigger the window, the brighter your bathroom will be.
You might be worried, "How will I have privacy?"
You can use frosted glass panels on the lower part of your window to get some privacy. You can buy a pre-made frosted glass or create it yourself.
All you need is a stencil and some etching cream. You can also create your own design to give your window personality and style.
2) Update Your Lighting
Artificial lighting is your solution if your bathroom lacks natural light.
First, check your lighting fixtures to see if they work correctly. If they are not, then you should replace them with new ones.
LED light bulbs are a great solution as they emit the most light and are energy efficient.
Next, consider adding additional light sources like sconces or track lighting if your bathroom is still dark.
3) Paint Your Bathroom With Light Colours
Another way to brighten your bathroom is by using light-coloured paint on walls.
All colours, except black, reflect light. However, darker colours will reflect less light than lighter ones.
Black absorbs light, so I wouldn't recommend using black paint if you want to make your bathroom brighter.
Out of any colour, white reflects the most light and is, therefore, the best choice of paint for achieving a brighter bathroom.
But what should you do if you prefer darker colours like grey or blue?
You can still make your bathroom brighter by choosing lighter shades of these colours. Or you can use a high-gloss paint.
High-gloss paint has a glass-like finish, making it shiny and reflect light well. This paint may be harder to apply than regular paint, but it's effortless to maintain, which is a plus.
Apart from your walls, you can also paint some of your bathroom furniture to help brighten the space.
4) Add a Mirror
Like windows, mirrors are a cost-effective solution to brighten up your bathroom. Mirrors add an element of light and space. It makes your bathroom feel brighter and more extensive than it is.
Mirrors reflect most of the light directed at them. So, mirrors are a great way to bounce light around your bathroom.
Additionally, instead of having a separate cabinet and mirror, why not combine them? You can find bathroom furniture collections with built-in mirrors in shops or DIY one yourself.
5) Clean and Declutter the Space
If you don't have the budget to invest in mirrors or lights, cleaning and decluttering your bathroom might help.
Cleaning your bathroom will remove dirt and grime from your walls and floor.
If you or a family member smokes, nicotine and tar might stick to your walls, making them look darker. Hard water stains can build up over time, too.
Cleaning and removing items that you no longer need will brighten up your bathroom space.
6) Use Light-coloured Bathroom Tiles
Besides light-coloured paint, consider changing your bathroom tiles to light-coloured ones.
While white tiles are often recommended for bathrooms and add a prominent element of brightness, you can still achieve similar results with other colours by choosing glossy or polished variants.
However, glossy or polished tiles tend to be slippery. So, it may be best to use polished tiles on your walls and matte-finish tiles on your bathroom floor.
7) Rearrange the Furniture
Rearranging your bathroom furnishings will allow you to maximize your space and give it a fresh look. You can reposition the furniture by moving it around or removing some altogether.
Stand in the doorway and take a look at your bathroom.
Are there spots where your furniture or decor blocks out the light? Perhaps a hanging plant on your window. Or your towels are covering up the mirror.
If so, rearrange them to let light into your bathroom.
8) Add Backlights to Your Furniture
Backlighting some of your furniture can make it pop and add additional lighting to your bathroom. Backlights also add a bit of drama and interest to the space.
You can also add backlighting to your mirror to maximize this artificial lighting and shed more light on your bathroom.
9) Use Light-coloured Shower Curtains or Enclosure
If you have shower curtains or enclosures, using a transparent or light-coloured type can help to make your bathroom look brighter.
For glass shower enclosures, I recommend the same method for windows. Use frosted glass to create a visual barrier and still have some privacy.
Also, keep your enclosure or curtain open when not in use to allow light to disseminate to your bathroom.
10) Use Metal Bathroom Fixtures
Like mirrors, metals can reflect light effectively. Adding these little details can also help.
Some bathroom fixtures you can change into metal versions are faucets, showers, and drains. You can also use a light-coloured bathtub or sink.
Frequently Asked Questions (FAQs)
How Can I Quickly Make My Small Bathroom Look Brighter?
First, clean up and declutter your bathroom, which can help create more space. Next is to ensure you have enough lighting. You can do these with the help of a window or artificial lights. Then, add details like mirrors, light-coloured paint, tiles, or backlights.
What Colours Make a Bathroom Look Brighter?
Light colours like white can make your bathroom bright. If you prefer other colours like blue or green, then you can choose lighter shades. You can also use a combination of white and different colours for style.
Should Bathrooms Be Lighter or Darker?
Whether your room should be dark or light depends on your preference. However, using darker colours might make the space seem smaller and cramped. Try using light colours for walls and floor, then use dark colours for details and accents to strike a balance.
Conclusion
It's no secret that your surroundings can affect your mood. From morning to night, your bathroom is in constant use.
It's a place where you can relax, unwind and de-stress. So it would help if you got the right ambience and décor.
There's no standard rule on whether a bathroom should be bright or dark. It depends on the style you are going for.
You can also look at this dilemma differently: What makes my bathroom look dark and gloomy?
But that's another topic for another day.
If you want your bathroom to be a clean and bright space, these tips will help you achieve that look.