Watson's Home Leisure superstores specialize in selling the highest quality indoor and outdoor furniture, hot tubs & spas, pool supplies, game tables, and more- and is one of the largest retailers of home recreation products nationwide.
Lounge Furniture
Be it for reading, relaxing, watching TV, napping or simply lounging – lounge furniture sets the perfect ambience in any room. From traditional leather recliners to contemporary zero gravity chairs – there are various types of lounge chairs to meet every taste, space and need in any home.
When selecting the ideal lounge chair for your home and room, the primary factor should be your aesthetic and floor space availability. A sleek modern lounge chair made of plastic may look out of place in a more classic living area and vice versa. Space availability should also be taken into consideration; too large of a lounge chair might become out of balance or too small may be cramped and unattractive.
Reclining lounge chairs are perfect for living rooms, bedrooms and outdoor patio spaces alike. Their adjustable backrest provides multiple positions of comfort while their design makes the chair suitable for using ottomans to extend lounging experiences. Click the link: https://en.wikipedia.org/Ottoman (furniture) to learn more about ottomans. Most reclining lounge chairs feature wood frames with upholstered seat and back rests that can be finished to match current decors and color palettes.
Modern and contemporary styles often utilize metal bases or feet to add sleek, modern appeal. Their finish can be darkened for an antique appearance or simply brushed to achieve an understated yet stylish matte glow.
Chaise lounges are upholstered chairs designed with long seats, made for lounging on. Their long seat allows one to stretch out and lie back for comfortable lounging in any position from traditional to contemporary styles and are therefore one of the most widely-used types of lounging chairs in homes, bedroom suites and even high traffic waiting rooms.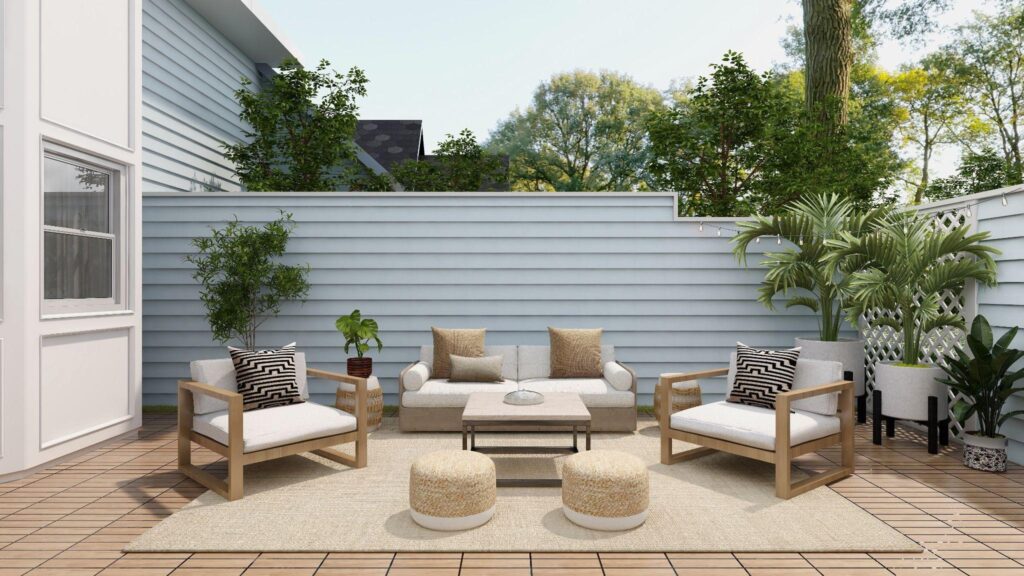 Outside
Outdoor furniture is an integral component of home style and comfort, but its purpose goes beyond aesthetics. Outdoor pieces allow you to take a breather from everyday tasks by offering you relaxation in fresh air, or serving as the backdrop for entertaining guests.
When looking for new patio pieces to invest in, be sure they incorporate both classic and contemporary design elements, from versatile wicker lounge sets to sculptural dining tables that will set the scene at your next backyard event.
Outdoor furniture should be long-lasting and reliable. Its material selection can have a dramatic effect on its lifespan. Exposure to sunlight and drastic temperature shifts can damage certain materials; for optimal longevity select Watsons home leisure furniture that is resistant to UV damage, corrosion and dry climate conditions. That will ensure your furniture lasts well into the future.
Metal garden furniture is often considered one of the most durable forms of outdoor seating, but can become uncomfortable in high temperatures. Metal can also rust over time and requires ongoing care and attention in order to stay looking its best.
Wood garden furniture can be difficult to keep looking its best and may be vulnerable to moisture damage, but teak and other hardwoods offer superior strength, weatherproofing and ease of maintenance compared to softwoods such as pine or cedar.
Rattan and woven wicker furniture is an increasingly popular choice for tropical-inspired outdoor furniture, due to its lightweight nature. However, while lightweight and easy to move around, they may not be as resilient in extreme weather conditions and could tear easily or blow away altogether.
Pools & Spas
Your pool or hot tub area could benefit from new furniture that helps organize it neatly and efficiently. Utilizing benches, couches and ottomans that serve dual-purposes such as storage allows you to keep equipment, cleaning supplies and other essentials out of sight yet still close at hand. Wood, plastic and other materials may be available so as to blend seamlessly into existing outdoor patio furniture settings.
Game Room
If your home includes a space dedicated to gaming, furniture can transform it into the ideal hangout space. A game room can serve many purposes – from entertaining children with toys and board games, to hosting board game tournaments among family and friends or hosting tabletop role-playing games like Dungeons & Dragons for team building purposes and creative thinking. Visit this helpful site for protips on how to host a successful board game tournament.
As you design your game room, remember that it will be used for hours at a time during gaming sessions. A comfortable seating arrangement is therefore essential to gamers of all ages. A swiveling gaming chair or one shaped like a hand can allow gamers to relax comfortably without placing strain on their necks or backs; alternatively, an armchair provides multiple positions of seating comfort.
The right furniture can ensure that your home and yard are comfortable, attractive, and stylish.