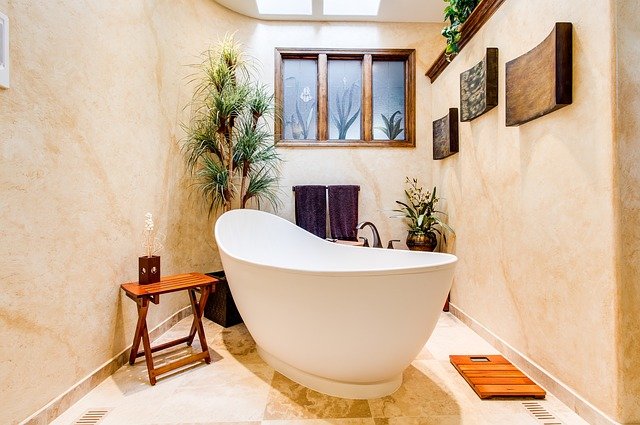 Are you getting tired of your bathroom? Then check out our simple upgrades to your bathroom's decor and small renovations, which can add style and function without a complete makeover.
Here are our top 11 Ways to Refresh and Decorate Your Bathroom and fall in love with it again.
Tile The Back Wall Of A Bathroom
With a chevron tile installation, it's easy to make a wall in a small bathroom stand out. To make even more of an impression, add tiles with fun patterns to the floor. Use cheap subway tiles that are 3×6 inches for a cheaper option. You can run them in a traditional running bond pattern or make your own herringbone pattern.
Add Color With Bathroom Accessories
You don't have to touch a hammer to change the way something looks. Update soft surfaces to give any bathroom a new look in just one day. A neutral bathroom will look brighter with new curtains, rugs, towels, and shower curtains. If you're feeling crafty, put a colorful adhesive paper on the back of a storage unit and wide ribbons around storage bins to add more color.
Walk-in bathtubs
A walk-in bathtub is an excellent choice for people who want their bathroom to look nice and be useful. These tubs have a door or step built right in, which makes them much easier to get in and out of than regular bathtubs. They are great for people who have trouble getting around, like the elderly or people with disabilities. 
Walk-in bathtubs are not only useful, but they can also add style to any bathroom. They come in a wide range of styles and finishes, from sleek and modern to more traditional and ornate, so it's easy to find one that goes with the rest of your bathroom decor.
Get Creative By Using Different Colors Of Grout.
Using colors for grout other than white is becoming more and more popular. It gives a space depth and personality that it might not have otherwise. One of the best reasons to use colored grout is that it hides dirt. Gone are the days when you had to clean your grout all the time and it was always white. If you use colored grout between your tiles, make sure you do it right. It can be harder to hide mistakes.
Use Bigger Mirrors To Make The Space Look Bigger.
Homeowners often have bathrooms that aren't very big, so they often look for ways to make the space look bigger. Putting bigger mirrors in your bathroom to make it look like it's bigger is an old trick that is simple but works. Just try it out for yourself!
Again, you can give your powder room some glam with inexpensive new features, like a dramatic round mirror and boldly patterned wallpaper. DIY weekend wallpaper projects are the fastest way to update a small space. Finish off the look with a gilded mirror, which gives the utilitarian space a bit of shine.
Get A Side Table
Get a console or side table from a flea market for a few dollars and turn it into a vanity with a primitive look. A table is also a good place to put a vessel-style sink because it is at a good height. Change the top so that a faucet can be put in. Or, install a tap on the wall so you don't have to cut the table. Use several coats of clear polyurethane to keep the wood top from getting wet and to protect it.
DIY Vanity Makeover
If your existing vanity cabinet has a lot of storage space, nice lines, and a strong build, you can give it a new look by painting or staining it. For a cabinet that has already been stained, sand off the old finish and apply a new color of the stain. You should also sand off the gloss from a cabinet that has already been painted, fill any holes or cracks, and then put on a coat of primer. Lastly, add a final coat of color.
Put Up The Beadboard
Beadboard can add some architectural interest to a simple bathroom. Installing boards one at a time takes longer and costs more than putting up panels. The panels look almost exactly like real beadboard and sell for about $20 each in sheets that are 4 feet by 8 feet. Another way to give the bathroom a farmhouse look is to add shiplap to the walls. Another way to add interest is with ceramic tiles.
Bring Some Life into Your Home by Utilizing Houseplants
Houseplants can help you and your space in so many ways. Not only do they make a room feel calm and peaceful, but they also have health benefits, such as cleaning the air and soaking up extra moisture. Don't worry if you can't grow plants. Even though fake plants don't have the same health benefits as real ones, they can still make a room feel like a spa.
Hang Up A New Shower Curtain
Smartly patterned fabric curtain panels are used as shower curtains to give this bathroom a designer touch that is easy and cheap to do. Combine fabric panels with a clear plastic shower liner to keep water from getting everywhere. If your tub has seen better days, you might want to have the surface refinished by a professional.
Use Lighting To Make Your Space More Fascinating.
Interior lighting should never be hidden from other objects. Not only because it is useful, but also because it comes in so many beautiful styles on the market today. Lighting fixtures can be elegant focal points in your bathroom. To do this, try putting them above baths or next to sinks.
In conclusion, changing the look of your bathroom does not have to be hard or expensive. With our top 11 Ways to Refresh and Decorate Your Bathroom, you can make small changes to the way your bathroom looks and how it works to make it more stylish and useful.
Read More: