Do Bedrooms Need Windows? (8 Solutions When They Don't)
Yes, bedrooms do need windows. It's an essential feature of a bedroom. An ideal bedroom consists of at least two windows and one door. I'm sorry if you don't have any windows in your bedroom, but according to several international guidelines, that cannot be called a bedroom.
Finding a house with every needed facility is very cumbersome. With the increasing population and costly price of houses nowadays, we have to be satisfied with what we get in our budget. Homes that are within our budget might not have some essential features because not all of us get lucky when buying our dream house.
Facilities like windows in every room to give us the light we need in our house, a nice bathroom, enough space to move, a big kitchen, etc., are rare nowadays in houses. We can't have all of them in one place.
Let's talk about windows. How would it feel like to live in a no-window bedroom? Will it feel suffocated? Yes. Will it be dark in the bedroom? Of course. Will we feel a shortage of wind in our bedroom? For sure!
Then what can we do if we have no other option but to live in a house which doesn't have windows in the bedroom? Don't worry because I'll give you solutions to the bedroom with no windows problem. I'm also going to sum up what are the guidelines for an ideal bedroom and what are the essential things in a bedroom. I'll also state the pros and cons of not having any windows in a bedroom.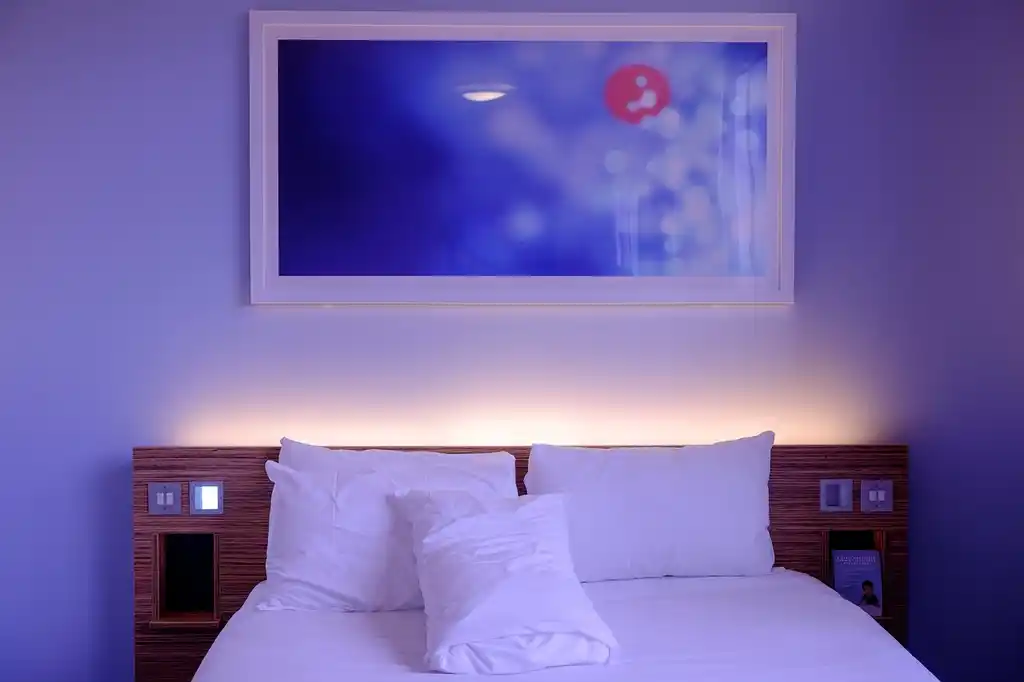 But first, let's have a look at what are the pros & cons of a bedroom without windows.
Pros:
I must say there's a good shortage of pros for a bedroom that doesn't have any windows. Because having a window is necessary.
But there's only one major pro for a room without a window. The pro is that the house will be less costly if it doesn't have a window in its bedroom.
So if you're going through a rough patch financially, this pro should be a piece of good news for you, but still, you have to find a way to solve the no-window problem.
Owners can't demand a high price for a house that doesn't have essential features like windows. So you can sweep the house for a price that's more suitable for you.
Cons:
A bedroom without any window is a big no for you if you're claustrophobic and don't feel comfortable with less light in the daytime.
It is not okay at all for you to live in a house that doesn't have windows in every room if you're a person with claustrophobia. You'll fall sick soon if you live in a place like that. In fact, it can even damage your heart due to immense phobia.
Not Enough Natural Light:
Also, if you're a person who enjoys natural light and natural wind, then a bedroom without windows must be a prison for you.
If you're the owner of a house with a bedroom with no windows, you probably should get ready to sell your home at a low price because no one will buy this kind of house at the price you expect.
It's better not to take any risks with health. So if you have all these problems, you probably should not buy a house without a proper amount of windows in it, even if it comes at a reasonable price.
Solutions For A Bedroom Without Windows:
You probably got it after all the discussion about guidelines that we cannot call a bedroom without windows a bedroom legally. But what if you're already living in a house that has a no-window bedroom? Or what if you're going to buy a home, but you're not capable of buying a luxury house with a low budget and can only afford a home without windows?
Don't worry because I'm here to save you from the crisis. We definitely can't call a bedroom with no windows a bedroom, but when we forcefully have to live in a bedroom like that, we have to decorate it in a way so that it can be used as a bedroom.
Here I'm going to write down some practical decorating solutions for a no-window bedroom. You can save money by buying a house with less price but also can enjoy a comfortable bedroom and feel relaxed. Without any further discussions, let's get into the topic then.
Make Sure Of Proper Lighting
You have to think of something out of the box to bring proper lighting to your bedroom when the source of natural light is not there because a dark bedroom is a big no. Light will make you feel more relaxed in your bedroom, and it'll feel less claustrophobic in the room.
You can't miss out on having proper lighting in your bedroom just because your bedroom doesn't have any windows. There are many artificial ways to make adequate lighting in your bedroom. In the reigning years of technology, there's nothing you can't do artificially.
You can use various kinds of lamps for enough lighting—table lamps, Lamp stands, hanging lamps, etc. You have to choose the suitable Lamp that perfectly blends with your bedroom and also gives you the proper amount of lighting in your bedroom, along with some ceiling lights.
You can install a skylight in your bedroom if the room is in the attic or if your room has enough space on the walls. It can be a great source of natural light. It can also be your bedroom window as it is almost the same as a window.
You can also hang a lovely chandelier on your bedroom ceiling. The size should be according to the size of your bedroom. It'll give the room enough light and also will look very beautiful.
Add Mirrors In Your Bedroom
Scientifically speaking, mirrors can be an excellent way to reflect more light in your bedroom with no window. We all know mirrors reflect lights and make a place brighter. So it's the perfect equipment to lighten up your dark bedroom.
Putting a big mirror in the bedroom will also help you get dressed up appropriately for your day. Mirrors can be used in more than one way. So install two or three mirrors in your bedroom so that they can reflect more light and brighten up your gloomy bedroom.
Also, mirrors can add a new dimension to your beloved bedroom so that it appears to be more significantly beautiful. People will come into your room and will be mesmerized by your mirror decorations, and it'll also be very efficient.
Go With The Light Colors
The color combination is the most crucial part of any decoration. And when it comes to decorating your bedroom without windows, it's better to go with bright and light colors rather than darker ones.
Light colors will make your room look more bright and more lively. You can paint the walls of your bedroom with a bright color that can bring freshness to the room and make it look cozier. Painting your walls with light colors will also create the illusion that the bedroom looks more spacious.
You can use bedsheets that fully match your wall. It will create a nice look in your bedroom, and you will feel alive in your bedroom. You may not feel the absence of windows in your bedroom anymore.
Consider Putting Flowers and Plants
Due to not having windows in your bedroom, you may miss seeing nature from your bed. You can solve the issue by installing beautiful flowers and plants in your bedroom. Of course, they have to be fake ones, as real ones will not get enough sunlight in your no-windows bedroom.
Go to a shop and choose the most beautiful fake flowers and plants to decorate your bedroom. They'll make you feel like you are surrounded by natural beauty, and you will not feel bad about not being able to see nature from your bed.
Install A Furniture That'll Create Focus
Generally, the focus of a room always gets set on the windows in the room. But how do you create the focus when your bedroom has no windows?
You can install a piece of furniture that'll get focused in your bedroom. It can be a TV, a Closet, or a bookshelf. Select this kind of furniture with the most beautiful design and install it in your bedroom to eliminate the feeling of missing something in the room.
You can also put something artistic in your bedroom to create that kind of focus. Whatever you add, just make sure that it makes your bedroom look nicer.
Hang Curtains
Curtains can give your bedroom a new life. But how can you hang a curtain when you don't have any windows? Well, just pretend you have one, so guests don't feel weird entering your room.
You can hang the curtain on the side of the wall, where you think a window could be placed. Keep the curtain closed so that no one knows about your little secret.
Using curtains with beautiful aesthetic designs and bright colours will really bring out the best in your bedroom. Keep in mind that the drapes must match the overall ambience of your cosy bedroom.
Prioritize Light Furniture
Your bedroom already looks less spacious due to not having any windows. If you put bulky furniture in your no-windows bedroom, you'll feel more claustrophobic in it.
Choosing furniture that is light and doesn't take up much space in your room is better. Lightweight furniture is also less costly, which will save you money too. Try to put as little furniture in your bedroom as possible so that you don't feel suffocated in your bedroom.
Also, go with light-coloured furniture that matches the whole look of your room. So don't waste more money on furniture and consider buying light and helpful furniture for your bedroom.
Hang Pictures On Walls
A bedroom without windows can look very boring and dull. You can banish the dullness by hanging some beautiful pictures on your bedroom walls.
You can hang family pictures, pictures of yourself, art pictures, or any artistic poster on the walls. But make sure they'll maximize the energy in your room.
You can also hang a tapestry on the wall behind your bed. The tapestry can be of your favourite artist or a movie poster you like. If the tapestry is more colourful, it'll look more beautiful in your bedroom.
Is It Legal To Not Have Windows In Bedrooms?
You may have a question: does a bedroom have to have a window? Is it indispensable? Can't anyone live in a bedroom that doesn't have windows?
Well, according to the FHA (Federal Housing Administration), a bedroom must have at least one window and one door in it. Especially if you have children of minor age in your family, then you shouldn't even consider living in a house that has a bedroom without windows.
On the contrary, your bedroom can be called a bedroom legally if it follows the International Residential Code guidelines. The guidelines of the International Residential Code don't approve the idea of calling a room bedroom only if it has a bed in it.
So to answer your question, "Do bedrooms have to have windows?" Yes, it does, according to the guidelines that should be followed by houses worldwide.
So what are the things that a bedroom must have? Let's see,
Enough Space:
A bedroom without a sufficient amount of space must feel like a jail. You surely wouldn't want to live in a jail-like area for your lifetime. That must be saddening and uncomfortable.
That's why according to guidelines, a bedroom must have enough space for people to live in it. A room won't qualify as a bedroom if it doesn't have enough space to breathe because the bedroom is a place where people want to be most comfortable.
But it'll be impossible to feel comfortable in a bedroom without proper space. In a day, there are a lot of activities we do in our bedroom, like watching TV, playing games, chatting with family, stretching, etc. We won't be able to continue doing all these things in our bedroom f it doesn't have the right amount of space.
To state the right amount of space in a bedroom, it isn't clear how much the floor area should be at maximum, but at a minimum, it should be 70 square feet. The length or width of the bedroom should be at least 7 feet. And the proper height of a bedroom is 7 feet from floor to ceiling.
Comfortable Temperature:
To relax in our beloved bed, we need to have a pleasant temperature in our bedroom. Or else we won't be able to relax and sit back without any tension in our bedroom.
To set a comfortable bedroom temperature, you must have a system that controls the temperature in your bedroom. The bedroom must have a natural source of heat inside it too.
To make your bedroom cool, you can use an Air conditioner. With the help of this technological miracle, you can set the temperature of your bedroom according to your need.
You can also set a cool temperature in your bedroom by opening the windows. Natural wind will cool your bedroom coming through the windows.
Enough Light:
Your bedroom must have a source that produces enough light in the room. Without a healthy amount of light in your bedroom, it'll feel like a den. And sleeping in a cave won't be very comfortable.
If you have children in your family, then that'll be harmful to them to live in a bedroom without the proper amount of light. They may feel suffocated and gloomy.
Having windows can resolve the issue as windows are a source of natural light and wind.
Ways Of Escaping The Room:
In case of emergency, your bedroom has to have several ways to escape. A bedroom must have at least two doors, one for regular use and one secret door for exiting the room in case of an accident.
No one knows when a tragedy might strike. That's why you should always be prepared for it. One of the most necessary precautions is having several ways to egress into the bedroom.
One should keep in mind while buying a house that the bedroom has enough ways to escape. It's a vital step for the safety of your family.
Minimum Size Of A Window In Bedroom:
As I have mentioned before, having a window in your bedroom is necessary. But do you know what the legal size of a window is in a bedroom?
The opening of your window must be a minimum size, and generally, that's 5.7 square feet. Yes, the size of your window in the bedroom should be at least 5.7 square feet so that you can legally call it a bedroom.
Another measurement is that the window's glass should be at least 8% of the bedroom's total floor area to allow natural light into the house.
Conclusion:
Although a bedroom without windows can not be called a bedroom legally, you can try the ideas I gave you to decorate your bedroom so that it becomes more livable. Let your creativity go wild when decorating your bedroom.
A bedroom with no windows can be bad news, but you can transform it into a beautiful cosy, comfortable room in no time. So why are you still sitting in your boring suffocating bedroom? Get up and decorate it with the tips I gave you.
FAQs:
Does a bedroom have to have a window in California?
Yes, according to the interior guidelines of California, a bedroom has to have an operable window for proper ventilation. And the window should be 5% as large as the floor area.
Does a bedroom have to have a window in Georgia?
Yes, bedrooms in Georgia must have windows. In fact, in Georgia, every room in a house must have windows through an exterior wall of the home.
Does a bedroom have to have a window in Texas?
Yes, in Texas, every room must have an outside wall with a properly sized window; otherwise, it will get approved by Texas Health and Human Services Commission.
Does a bedroom have to have a window in Wisconsin?
Yes, according to Wisconsin window law, you can't use a room for sleeping unless it has at least one window opening upon a street. Yard, or an alley. The window should be 36 inches in height and 36 inches in width.
Does a bedroom have to have a window in Florida?
Yes, in Florida, egress windows are required in a bedroom. In Florida, you might not have to worry about having a basement, but you have to have windows in your bedroom.
Can a bedroom have two doors instead of a window?
No, you must have windows in a bedroom for proper ventilation, even if you have two doors in the room. Two doors cannot eliminate the need for windows.
Reference:
Read More: