For the man who wishes to leave a lasting impression, not just with a signature drink, but with a space that truly embodies his personality. Whether you call it a sanctuary, a man cave, or simply "home, sweet home," your bar says a lot about who you are. And the best part?
There is no need to spend a fortune on this. From upcycling old furniture to repurposing household items, these DIY man cave bar ideas on a budget will have you toasting your creativity and resourcefulness in no time.
Here are the top 10 budget-friendly DIY man cave bar ideas:
1) Vintage Man Cave Bar Ideas – Attic Pub Man Cave
Transforming an attic into a pub-style man cave can create a unique and vintage atmosphere. Use old-fashioned decor and vintage signage to create a welcoming and cozy space. Adding a custom-made bar with bar stools and a small refrigerator can transform the room into a great hangout spot.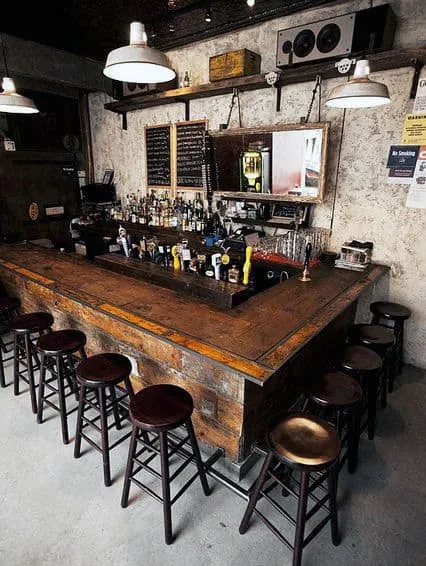 Start by repurposing old wooden barrels and crates to create a bar counter. Add antique bar stools and vintage posters to complete the look. You can use dim lighting to add a cozy and intimate feel, like a speakeasy hidden away from the outside world. For an extra touch of medieval charm, consider incorporating swords into your vintage man cave bar. Hang a decorative sword collection on the wall as a conversation starter or display a single, ornate sword as a focal point. These historical artifacts can add a touch of mystery and adventure to your attic pub, creating a truly unique and captivating atmosphere.
2) Small DIY Man Cave Bar Ideas – Dart Board
If you're short on space and looking for small man cave bar ideas, you can create a small bar area by using a dartboard as the focal point.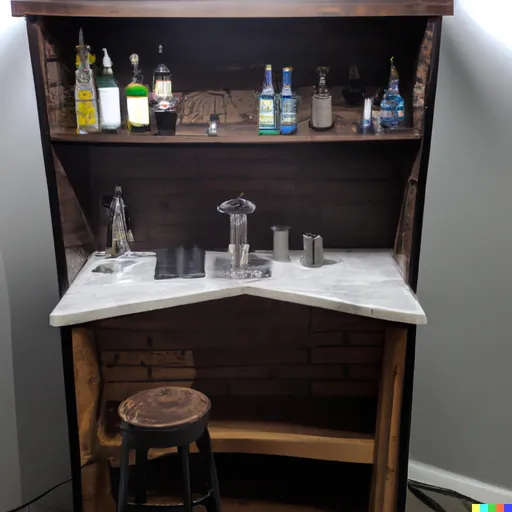 Hanging a dartboard on the wall and placing a small table and chairs nearby can create the perfect spot for a few drinks and a game of darts with friends.
Utilize an existing piece of furniture, like a cabinet or shelf, and transform it into a bar counter. This is an easy and cost-effective way to start building your home bar. Add a dart board as a centerpiece and use old beer cans to create a unique decoration. You can even use old darts as handles for the cabinets and drawers.
3) DIY Man Cave Shed Bar Ideas – Bar in a Shed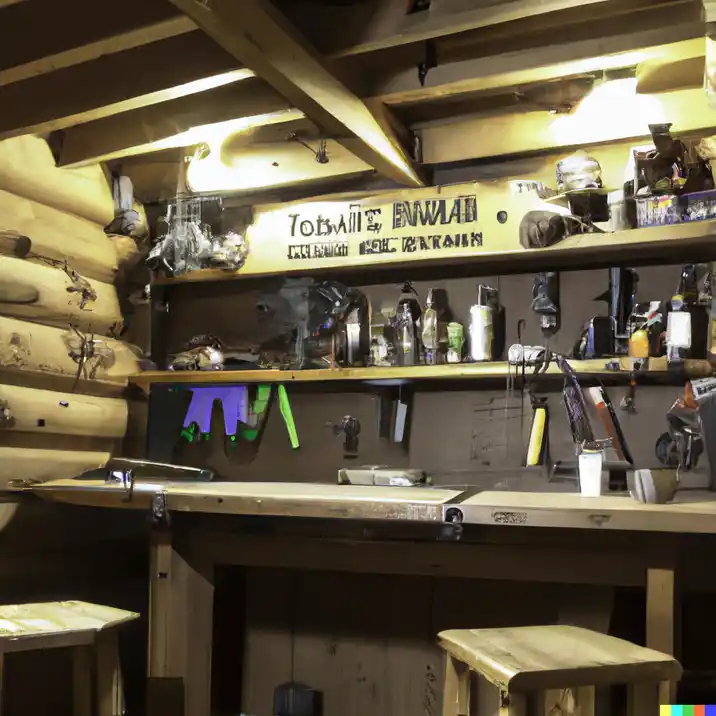 Looking for man cave shed bar ideas? If you have a shed in your backyard, you can easily convert it into a man cave bar. Adding a bar with a small refrigerator, a television, and some comfortable seating can create a relaxing atmosphere.
Create a DIY bar in your backyard shed by reusing an old workbench or table as a bar counter. You can add shelves for liquor bottles and glasses and use old license plates as wall decor. With a few decorations and lighting fixtures, you can transform your shed into a cozy man cave bar.
4) Small Man Cave Garage Bar Ideas – Garage Bar Conversion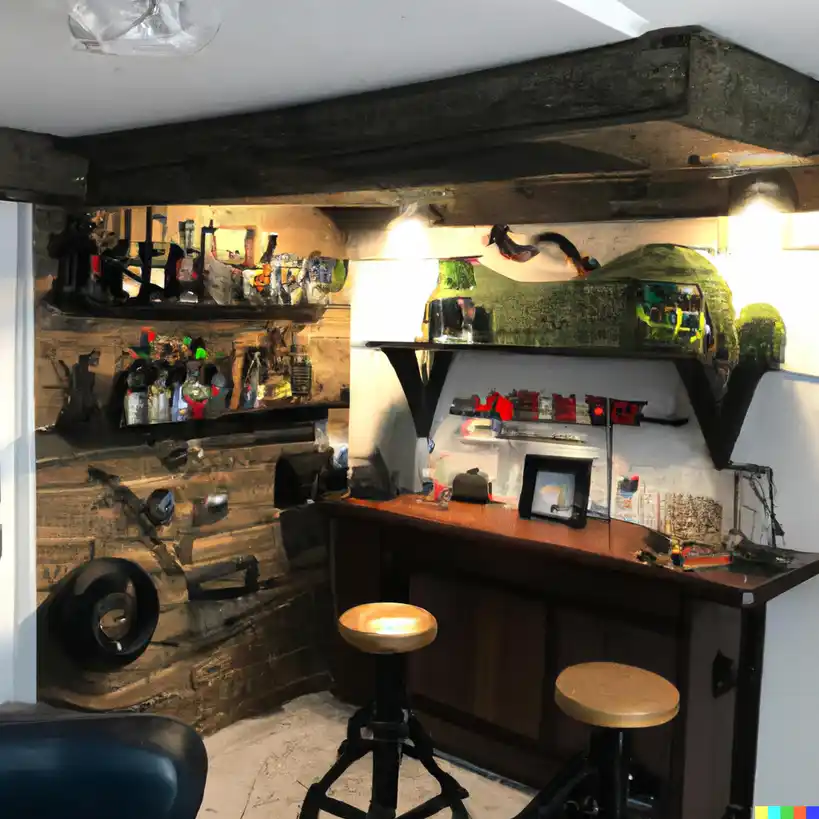 The garage is often seen as the place where the forgotten and unused items of our lives go to collect dust. But what if that barren space could be transformed into a hub of social activity? A small garage bar conversion could be the answer if you are looking for small man cave garage bar ideas.
With a fresh coat of paint, and a new set of shelves, the garage could transform into a cozy and intimate bar. The shelves could house bottles of booze, while the walls could be adorned with vintage posters and neon signs.
The floor could be replaced with polished concrete, while the ceiling could be given a makeover with pendant lights. It would be a sanctuary for sipping cocktails, a refuge for sharing stories, and a den for hanging out with friends.
5) Small Basement Man Cave Bar Ideas – Sports Theme
Remodeling a small basement into a sports-themed man cave bar can create a fun and inviting space. It's one of the best man cave basement bar ideas with a tight budget. You can add a bar, bar stools, a pool table, and some sports memorabilia to create the perfect hangout spot. Adding a few comfortable chairs or a small sofa can make the space even more inviting.
Create a sports-themed man cave bar in your basement by decorating it with your favorite team's Jersey and memorabilia. Repurpose an old table or countertop as a bar counter and add shelving for liquor bottles and glasses. Add a TV to watch games and decorate the walls with sports posters and banners.
6) Rustic Man Cave Bar Ideas – Pallet Bar Counter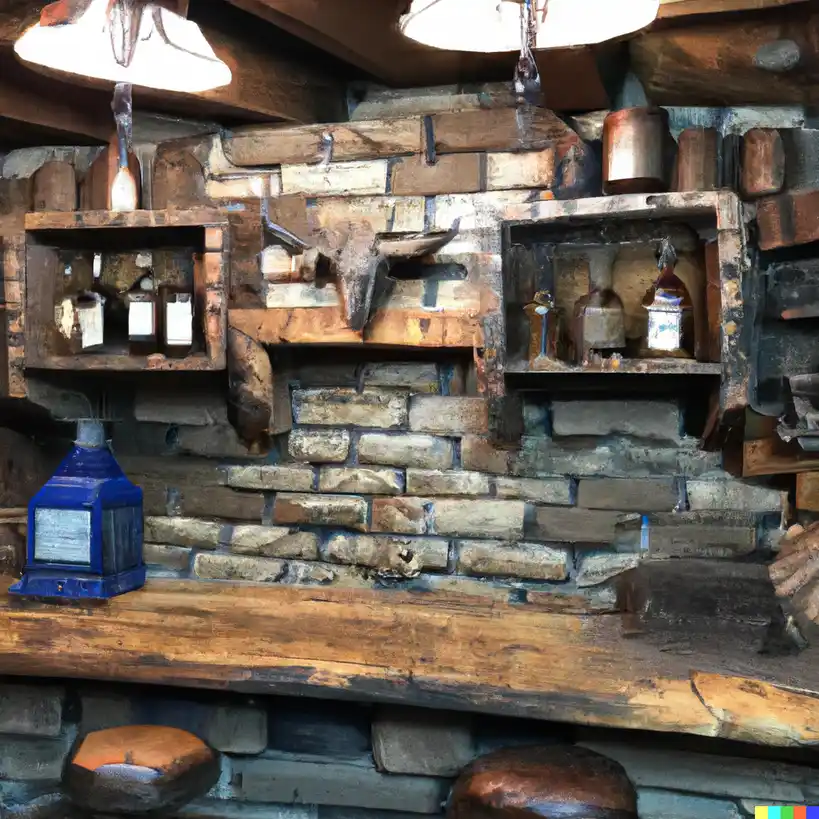 If you love the rustic look, consider using wooden pallets to create a bar counter. You can stack the pallets and attach them together to create a unique and personalized bar.
All you need is a saw, a combi drill, and some 2×4 timber. And, of course, a bunch of pallets. You can usually find them for free or dirt cheap. Make a choice about the size and shape of your bar.
Once you have that figured out, start by cutting the pallets into the desired lengths. Use the 2×4 timber to create a sturdy frame and attach the pallets to it using screws or nails. Make sure to reinforce the corners and edges for added durability.
You can use a sheet of plywood or any other wood that catches your eye. Sand it down and give it a nice finish to add to the rustic look. To make your bar even more functional, add some shelves and hooks to store your favorite drinks and bar accessories. It's unique, it's rustic, and it's perfect for a man cave.
7) Garden Man Cave Bar Ideas – Outdoor Bar Area
For those who love to be outside, why not turn your backyard into a cozy outdoor bar? Setting up an outdoor bar area is a great way to enjoy the warmth and fresh air while socializing with friends and family.
Build a custom-made bar, add some comfortable outdoor furniture, and install some string lights to create a cozy and inviting space. You can also add a small fire pit to keep the space warm and welcoming.
8) Cheap DIY Man Cave Bar Ideas – Custom Wall Art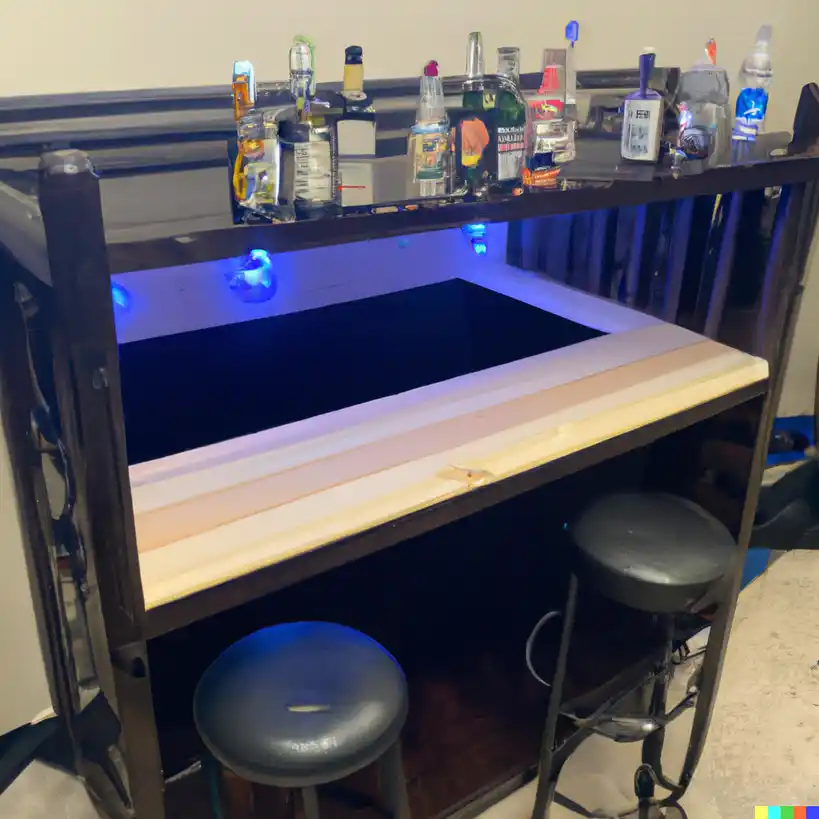 Custom wall art can be an easy and budget-friendly way to add a personal touch to your man cave bar. Transform your man cave into a sanctuary of coolness with custom wall art that is as individual as you are.
You can use old record albums to create a wall of sound that will keep the good times rolling. Or create a visual feast of poster art that is sure to stand out and enter your space. Adding some lighting can also create a welcoming and cozy atmosphere
.
Let your imagination run wild by incorporating photographs that evoke memories of past adventures or inspire future ones.
9) Industrial Man Cave Bar Ideas – Cable reel table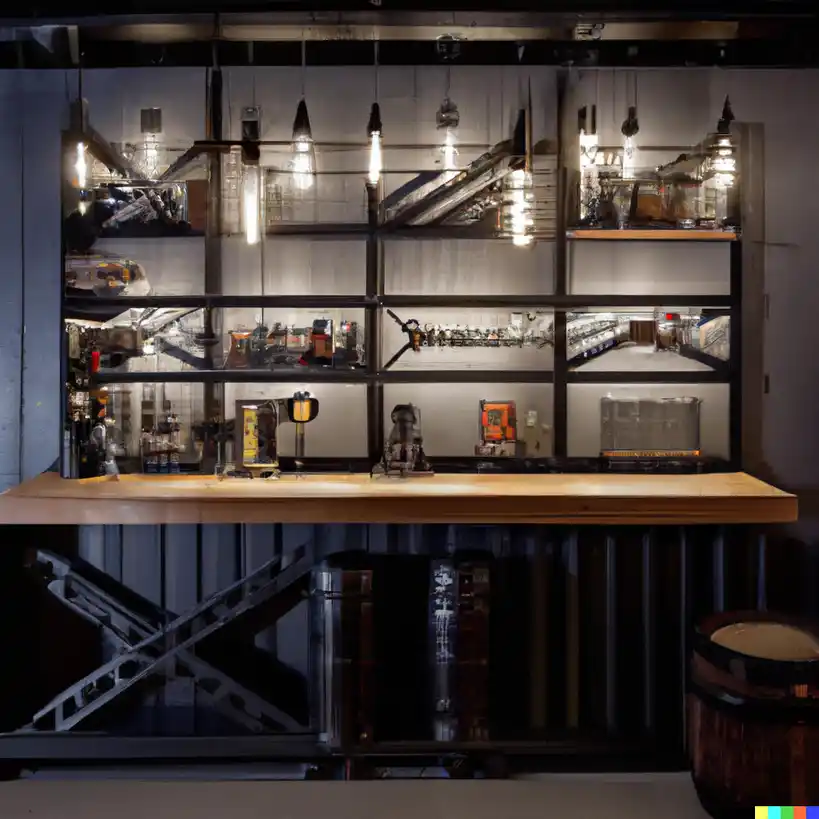 An industrial cable reel for a bar table can give your space a unique, personalized touch. It's the perfect way to add some unique flair to your space. And the best part? It's super easy to make or buy!
You can add a few stools or chairs and some rustic lighting to complete the look. Adding some industrial elements, such as metal shelving or industrial-style lighting, can also enhance the atmosphere.
Your very own rustic industrial man cave bar table. Perfect for poker nights, happy hours, or just kicking back with some buddies. So what are you waiting for? Get out there and snag yourself a cable reel!
10) Corner Bar Ideas – Small Corner Bar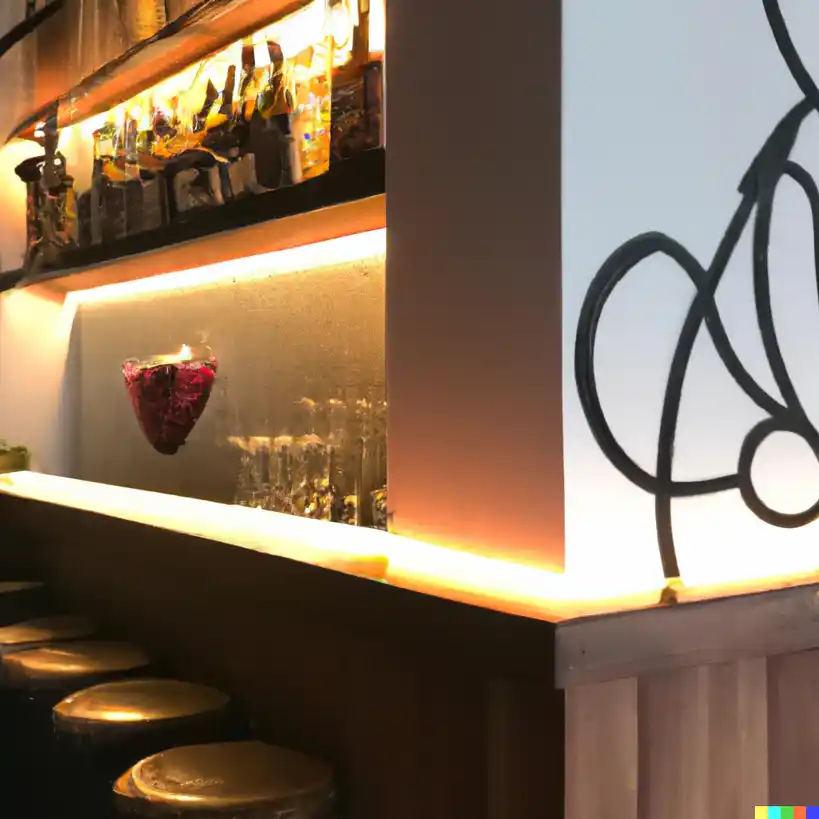 If you're short on space in the corner and you might wonder how you can fill it. In that case, you need perfect corner bar ideas. A small corner bar is an excellent choice! Spruce up your home by transforming a small corner into the perfect hangout spot.
You'll need to choose the right spot for your little hangout corner. It could be in your living room, basement, or even in your garage – wherever you feel most comfortable. Install a custom-made bar, shelves for glasses, and even a mini fridge to make it cozy and chic.
Give your space personality by adding unique lighting fixtures or creating customized wall art. This way, you can make sure the room reflects your own style!
Tips to make a cheap man cave
Creating a man cave can be expensive! Well, fear not because I've got 10 tips for making a cheap man cave that'll make you feel like a king without breaking the bank.
"One man's trash is another man's treasure" – don't be afraid to hit up garage sales or thrift stores for furniture and decor. You'd be surprised at the gems you can find for cheap.
DIY your heart out – instead of buying pre-made furniture, consider building it yourself. In addition to saving you money, you'll have a unique piece that you can be proud of.
Get creative with storage – instead of buying expensive storage solutions, repurpose items you already have. For example, turn an old ladder into a bookshelf or use an old wooden crate as a side table.
Invest in multi-purpose furniture – think ottomans with hidden storage or coffee tables that can be raised to dining height. These items can serve multiple functions, saving you money in the long run.
Take advantage of technology – instead of buying an expensive sound system, consider investing in a smart speaker that can play music and podcasts, as well as control your smart home devices.
Use lighting to set the mood – string lights and lamps can create a cozy and inviting atmosphere without the need for expensive overhead lighting.
Add personal touches – hang up posters, photos, and other decors that reflect your interests and personality. It'll make the space feel more like "yours."
Incorporate nature – bring in plants or other natural elements to add life and vibrancy to the space. It'll make the cave feel less like a man-made room and more like a part of the natural world.
Look for deals – keep an eye out for sales and deals on items you're interested in. You might be able to snag that leather recliner you've had your eye on for a fraction of the price.
Don't be afraid to mix and match – combining different styles and decor items can create a unique and eclectic space that's all your own. Just make sure to keep it cohesive by sticking to a color scheme or theme.
So there you have it – ten tips for making a cheap man cave that's still fit for a king. Whether you're a budget-conscious bachelor or just looking to save some cash, these tips will help you create a space that's uniquely yours.
FAQs:
How much does it cost to build a man cave?
Building a man cave can cost anywhere from $1,000 to $10,000, depending on how fancy you want to get. This price is average, which means it can be much cheaper or over priced. You can DIY it or hire a pro, and the materials you choose will also affect the price.
Can I build a man cave in my backyard?
Yes, You can build a man cave in the backyard. If you don't have a basement or you don't like it, a backyard is a good option. As long as you follow local zoning and building codes, you can make your backyard the ultimate hangout spot. Just make sure to keep the neighbors happy and the noise level in check.
Is it healthy to have a man cave?
Well, that depends on how you use it. If you're using it as a place to escape reality and avoid responsibilities, then it's not so healthy. But, if you use it as a space to decompress and recharge, then it can definitely be beneficial for your mental health. We all need a place to retreat from the chaos of life, am I right?
Do man caves add value?
And finally, do man caves add value? The short answer is yes, but it's not a guarantee. It all depends on how well you design and construct it. If you put in top-notch features and make it a desirable space, it could increase your home's value. So, do your research and build it right!
Conclusion
Transforming your basement or garage into a DIY man cave bar doesn't have to break the bank. With these 10 man cave bar ideas on a budget, you can bring life to your man cave bar without sacrificing quality or style.
From upcycling old pallets to creating custom bottle openers, the options are endless and allow you to get more creative.
A man cave bar is more than just a place to drink; it's a sanctuary, a haven, and a symbol of individuality. Start planning your man cave bar today, and be the envy of all your friends tomorrow.
Read More