Have you tried to hang out at a night party but don't want to step out of your house? Or are you looking forward to partying but thinking of saving money? Well, in both of these cases, your garage can be the best solution! A bar in the garage is something that everyone gets surprised after knowing.
Yes, you heard it right!
With the increasing trends of the modern infrastructure of bars, many people have started searching for back bar ideas. We are sure you're also one of them! In addition, small bar lounge ideas are also on peak trend these days.
But wait,
How are you going to convert your garage into an intimate bar? Well, the following crafted ideas will boost your creativity.
Top-Rated Garage Bar Ideas in 2022
Appealing to your friends to the outlook of the bar you have set up at your house is pretty challenging. But, don't worry! You can do this at your best. Do you know how? By looking at the following DIY garage bar ideas! So, let's not waste more time and explore the list below.
Setup a Backyard Bike Bar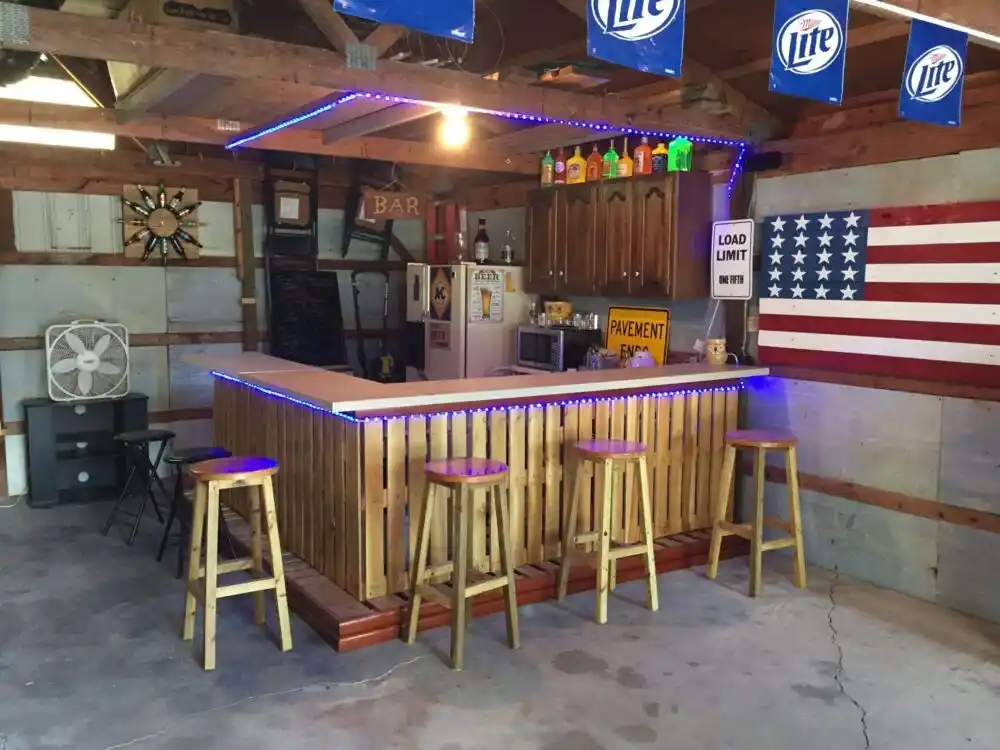 Have you been looking for something rusty to catch the attention of your fellow drinkers? If yes, the first idea is going to turn the tables down. It stands top among the rustic bar ideas. You can integrate the bike theme in your garage or backyard.
In addition, to get a perfect edgy look, you can check ideas on the internet for using different bike parts as ornamentals in the bar area. When painting the wall, you can use Harley Davidson's iconic orange color splashes.
Furthermore, you can use the courtesy of a plywood ceiling coupled with a concrete floor. This will give an ultimate vibe or feels to the bar area of your house.
Choose White Walls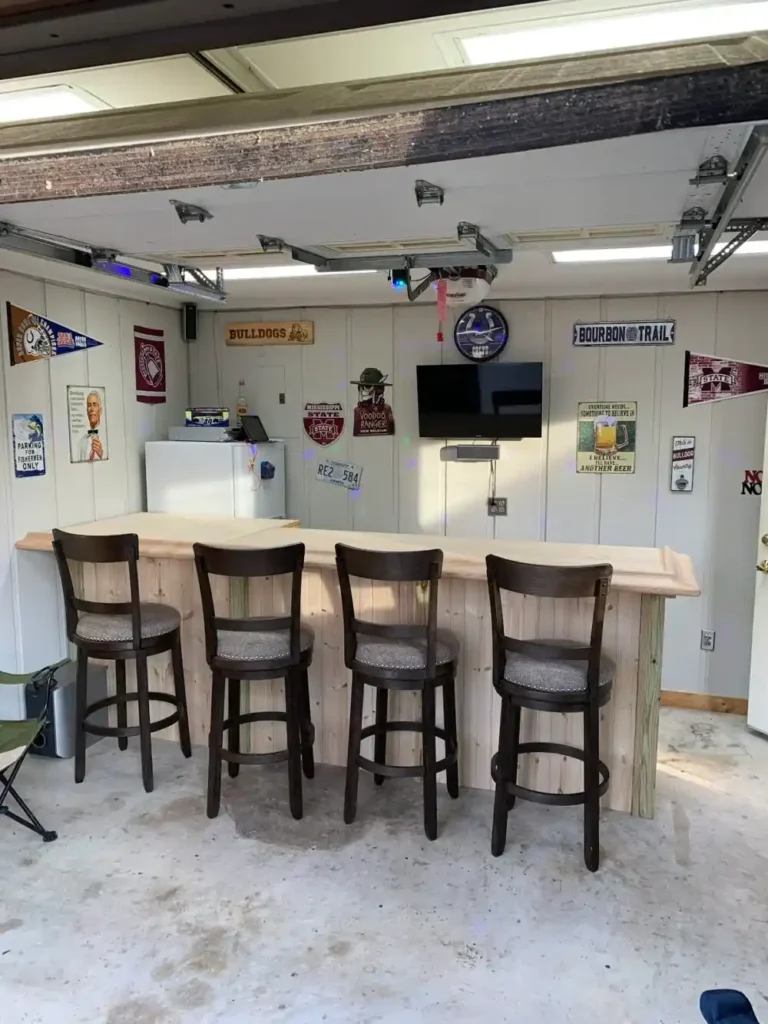 The elegance of your garage bar can only be maintained by painting all walls with white color. As we all know, white color is a sign of dignity. So, why not implement it? You can hire a professional painter to coat all walls of your garage with white paint.
Furthermore, the selection of white paint for the walls will give you access to choose from various furniture and interior design options. Almost every type of furniture goes well with the white color on the walls.
Posh Man Cave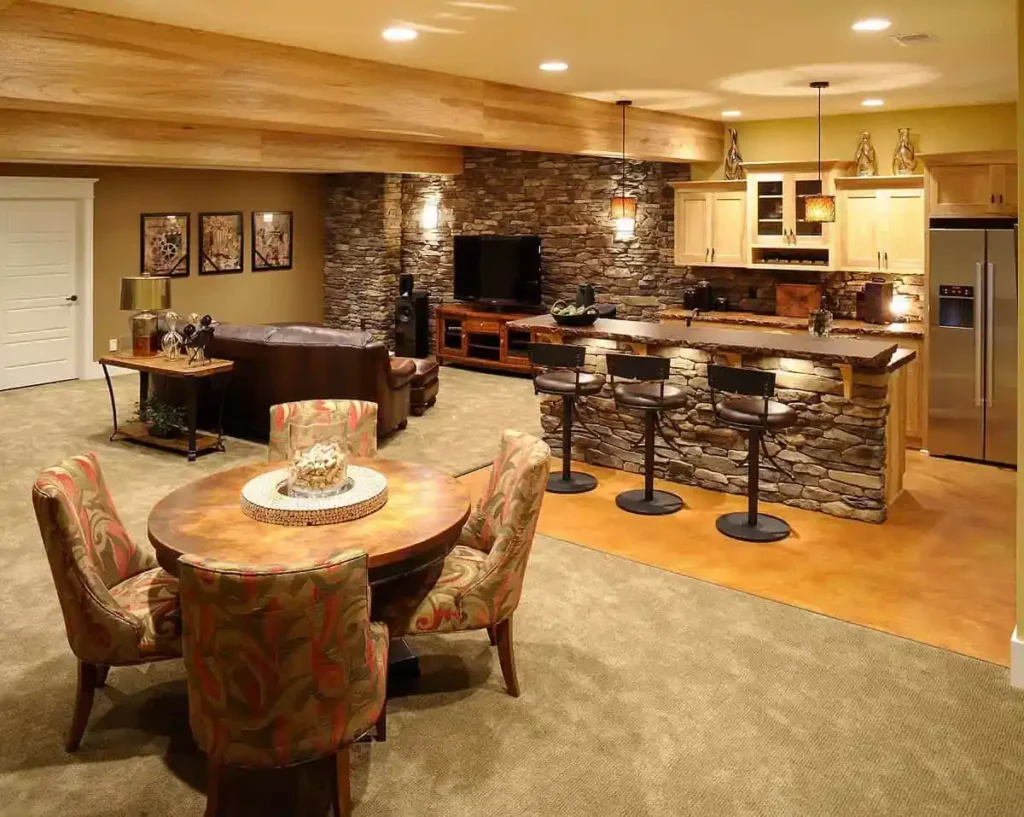 It is one of those man cave garage bar ideas for those who want something big for their parties but don't want to step out. The man-cave option gives a historic look to your garage when you try to convert it into a bar.
The floor integrated with different marble styles can make your garage look massive compared to the outdoor places. You can also use small tables of premium quality stones or marble. Adding some natural elements or wood tones will give the garage a masculine feel.
Furthermore, you can use the necessities of a bar while using natural substances. A pure dedication work will undoubtedly result in a gentlemen's club vibe.
Add Brick Walls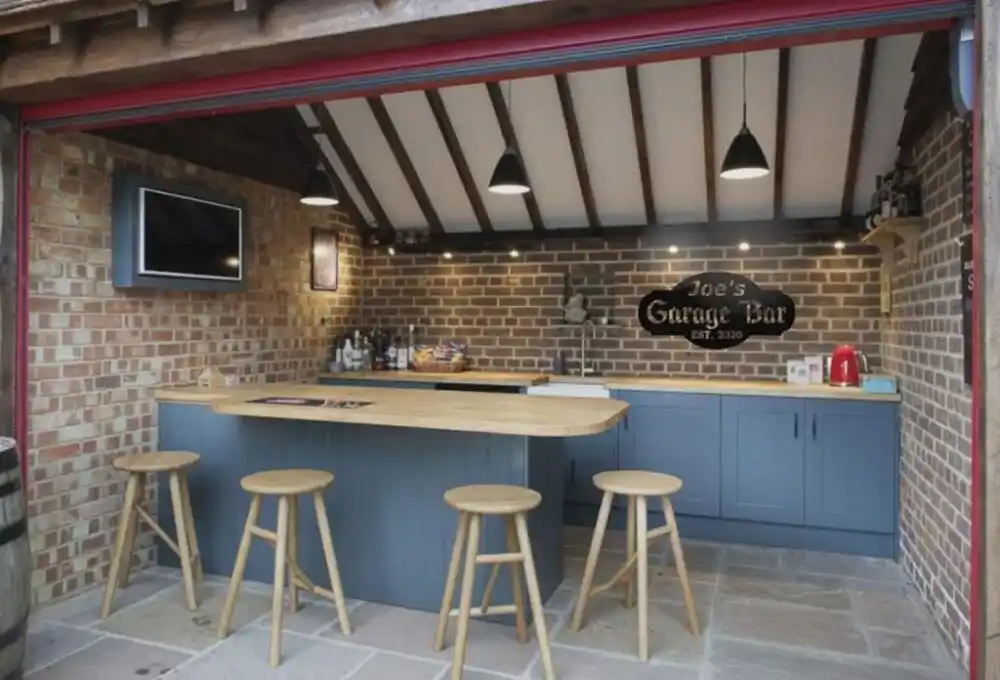 Another demanding option for changing your garage's overall outlook is adding some brick wall features. It will cost you some money but believe us; it is worth it! Adding brick walls will give a decent look to your garage bar.
You can also use the highest quality brick wallpapers other than the actual bricks. This will also work the same for improving the outlook of your house. So, make sure to use brick wallpapers if you want to save money while converting your garage into a bar.
Choose Mood Lighting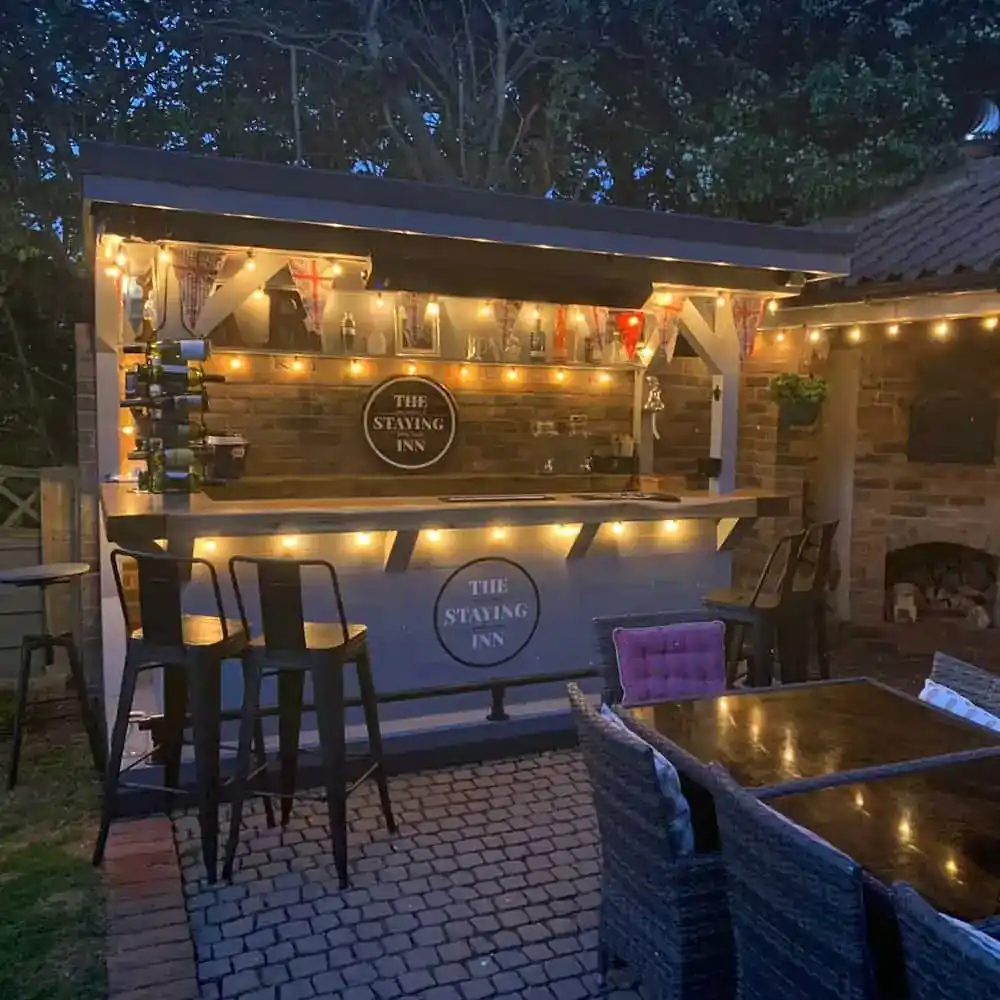 One of the best small garage bar ideas is to integrate the use of different types of mood lights. The primary purpose of wine bars is to light up the mood of everyone. So, what if we couple this purpose with some good quality lights? It will bring some good results!
If you have some DIY Bar plans in your mind, then they should be on the top. You can visit the nearby market and find some quality mood lights to hang in the garage. It will create a wholly different vibe at night.
Work on the Seating Area
One of the most used places in a bar is the seating area. So, when you are thinking of converting your garage into a bar, it is one of the cool garage bar ideas to use different styles of seats. It can not only improve the bar's outlook but will also attract friends or family members.
In addition to this, you can check the options available at Amazon or a local carpenter near your locality. He will help you best design the seating area according to the vibe you want to create. You can use stackable barstools, dining stools, leather bar stools, and even wooden counters.
Keep the Garage Vibe Alive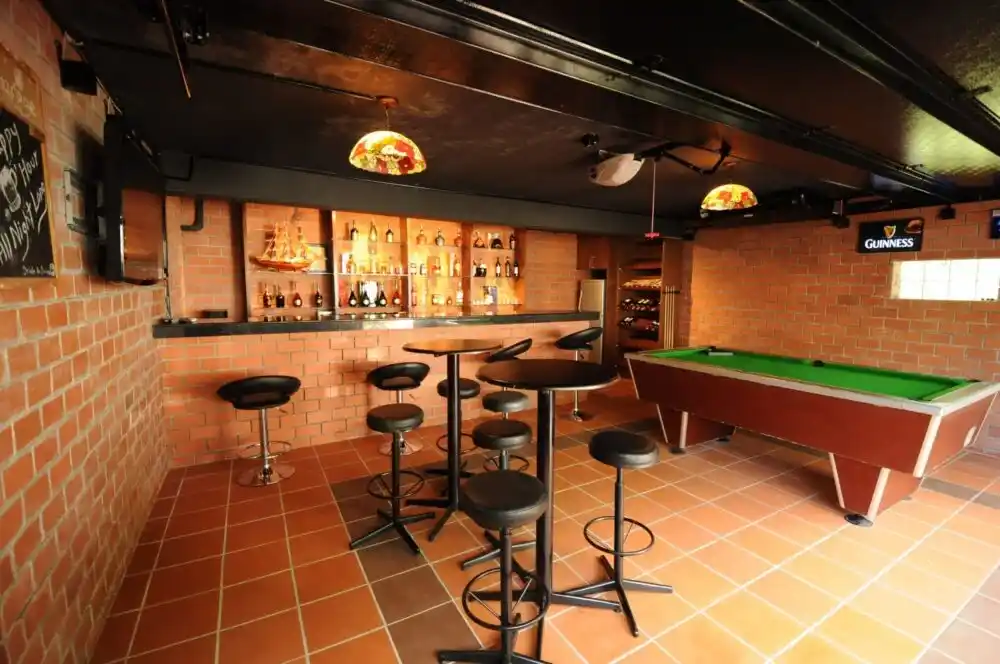 One of the rustic garage bar ideas is keeping the garage in its original state while adding some statements. You can embrace your garage area with the help of vintage car parts. This way, you can convert the garage into a bar without changing the basic theme. Different automobile parts can add much more to the outlook.
Furthermore, you can implement this idea in a variety of methods. Try to use the truck grill while integrating it with the wall. Besides, you can also take out the car seats and arrange them in the seating area. Thus, there is no need for you to spend extra money on purchasing the seats.
You can even hang the vintage car parts on different walls of your garage. This will make your bar look more like a vintage area. In addition, it will also be a good idea to use license plates as shelves. You can also keep your wine bottles safely during all this.
Setup the Drink Storage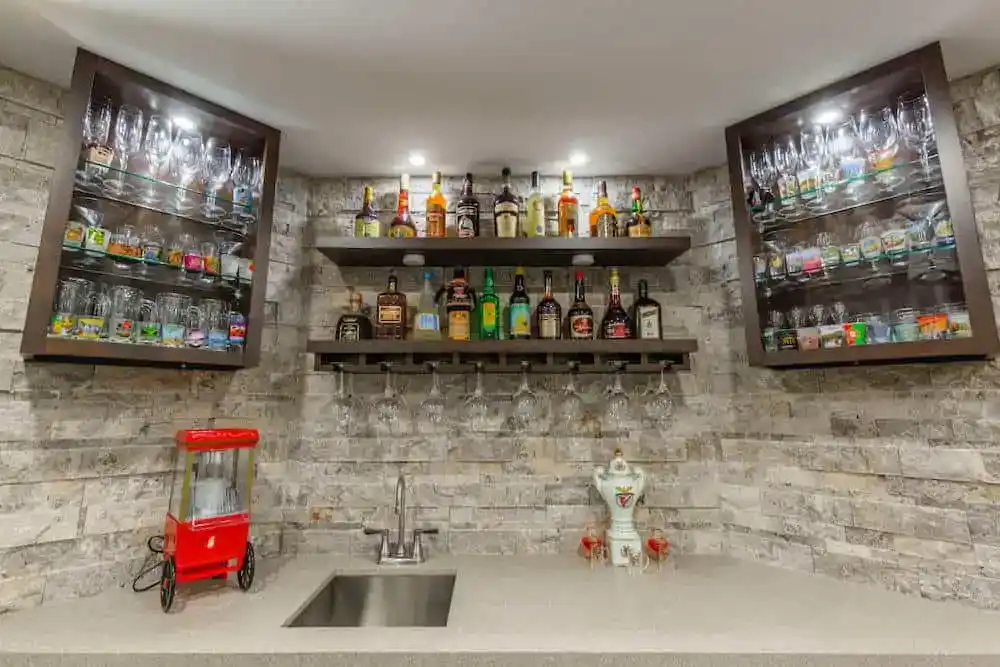 Gone are the days when you have to rush to outdoor bars when trying to have fun with your friends or family members. You can now turn your garage into a bar with the help of some built-in bar ideas. The focus of attention of everyone in the bar drinks. So, why not work on this area? You must set up a separate storage area to keep all your drinks.
Aside from drink storage, you also want to make sure you have space for other things you need for your garage bar. Think about installing drawers and cabinets for this. You'd want to invest in quality drawers slides and cabinet hinges especially if you want these storage spaces to have optimal functionality and last longer.
Other than this, you can add some funky fridges or chilled areas where you can keep versatile types of wines without ruining the taste or quality. You can also create the highest quality wine cellar liquor cabinet and a bar cart. This will make it easy for people to get their favorite drinks.
Option of a Cabin Getaway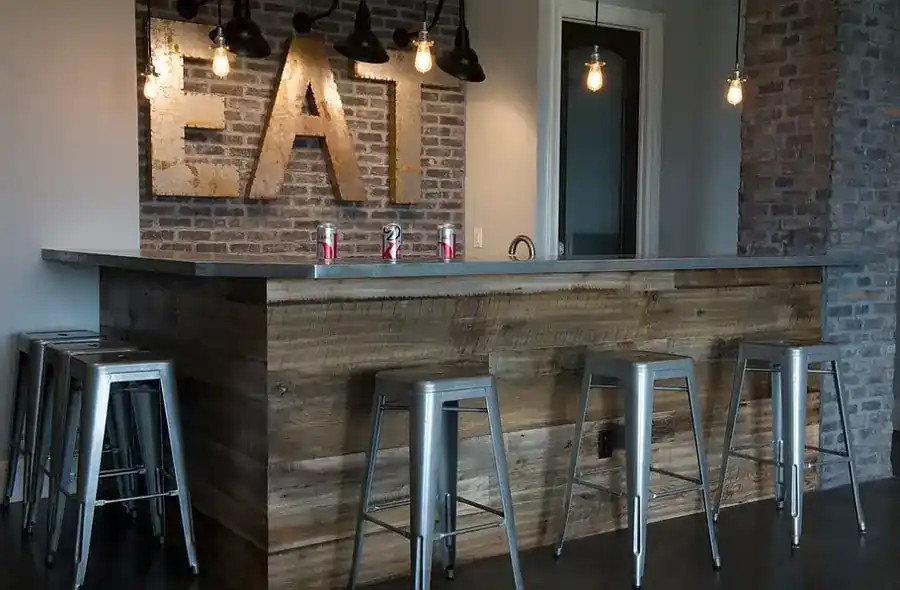 Is your garage made up of long-lasting quality wood? If yes, this DIY option can be the best fit for you! It is more like a man-cave option for those who want to keep it simple yet elegant. Other than this, wood ceilings and wood-covered walls will work best.
You can also integrate the premium quality of wooden floors in this option. Another best way to add much more to this style is to add some vaulted ceilings. They are the ultimate source of reminiscent beauty in your bar.
All Black Theme
When you are out of ideas and not getting any clue about improving the outlook of your garage and turning it into a bar, go for black! It never fails. The addition of black paint, black walls, and black accessories will make you fall in love with your place.
Besides matching the vibes of black color lovers, it is also a modern or an on-trend option. You can also paint the walls of your house with black paint.
Add Natural Stones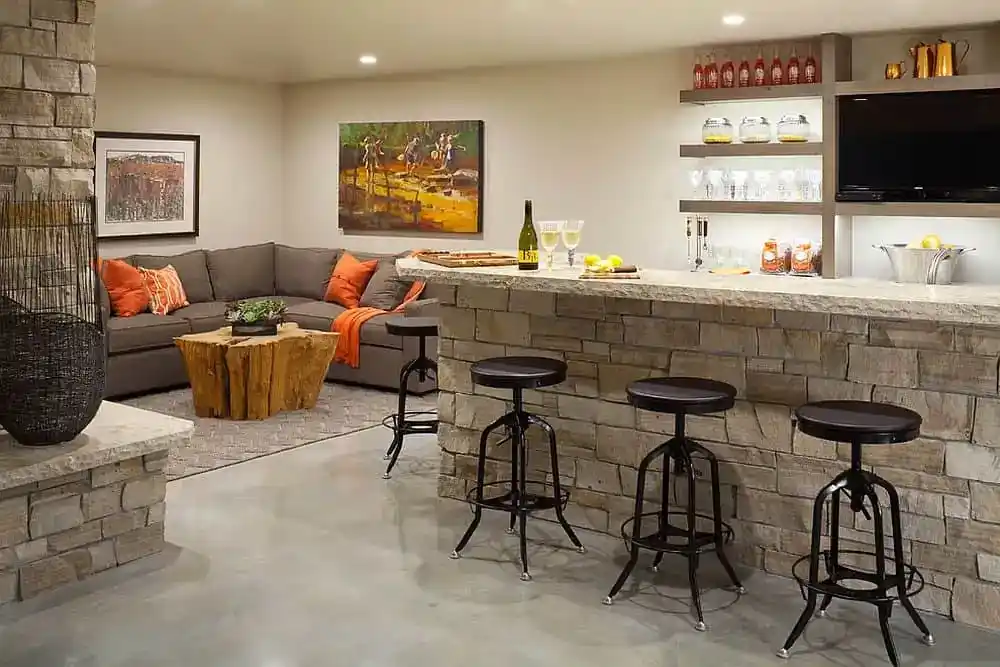 Stonework always wins when nothing is working out. Many interior designers prefer stonework over anything when you tell them about converting your garage into a bar. Furthermore, you can couple it up with some table-like capping.
However, it will cost you some money, but we assure you it will be worth it. Some of the natural stones also go well with different types of black stools. So, add a perfect combination of natural stones and black color accessories.
Add Some Couches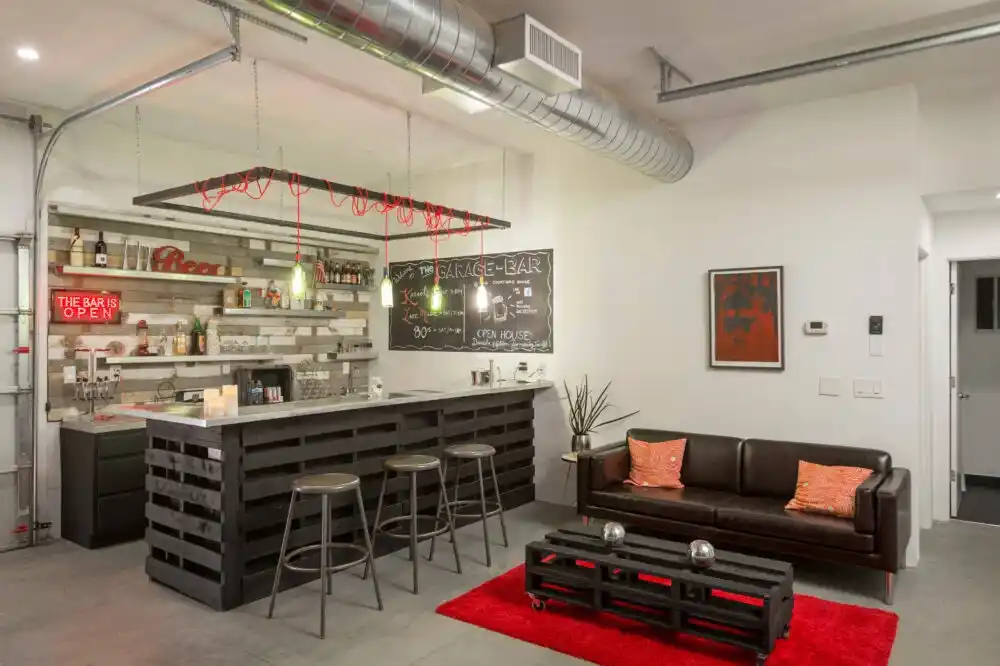 What if you want to convert the garage into a bar but don't have enough money? Well, don't worry! We have covered you up with the best solution. You can use some spare couches from your house and place them in the garage area.
It will create a cosy place where you can sit all day and have fun with your friends or family members. Other than this, you can also match the colour of the couches with the walls of the bars.
Conclusion:
You should be ready to make one when you know some of the best garage bar ideas. Don't waste your time and implement some of the above-mentioned DIY tricks for converting your garage into a bar.
Read More: