Are you looking for some beautiful grey and white kitchen ideas? You needn't look any further. Here we discuss beautiful kitchen renovations in various tones of grey-white and gold. Despite having the same basic color scheme, each kitchen stands out from the crowd. Get the inspiration you need for your next home project, from neutral, rustic details to lavish, ornate gold hardware. 
If the pandemic has taught us anything, it's that kitchen designs that encourage a sense of homeliness that make us happy. 'Homeliness' implies different things to different people. Some want minimalism, while others prefer a more decorated vibe.
White, grey, and gold kitchens have surely made it to the design trends of 2022. This shade in itself is so versatile that it can make every kitchen design theme and color palette look elite. We will discuss relevant and easy ideas for the grey-white and gold kitchen ideas. Consider a white range hood as inspiration and read on to know more!
Grey, White, and Gold Kitchen Decor Ideas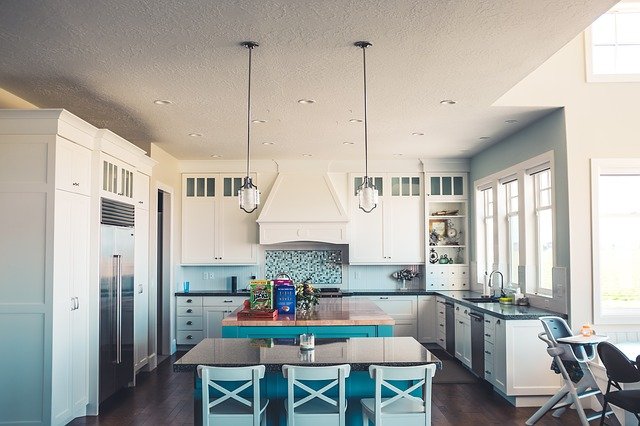 These are the following ideas for your gold and grey decor kitchen:
1. Cabinets
One of the timeless kitchen design principles is the ideal combination of white and grey. It is especially useful when creating maximum depth and dimension in a small kitchen. The cabinets are all grey with a white countertop.
Read More: 14 Aesthetic Bloxburg House Ideas
A white and grey kitchen is a neutral color that complements practically all colors (go pastel!) to create the right look. This look's stunning white countertop and tiled niche wall are contrasted and intensified by steel accents on pendant lighting and an edgy chimney.
2. Ideal combination
The ideal combination of textured wood, grey cabinetry, and white tile backsplash in the kitchen produces a gorgeous statement. Here, we have elegant un-epoxied wooden ceiling panels, open shelves, raw wooden chairs, and a pleasant wooden spatula on the wall, contrasting with a bright white and lovely light white grey kitchen tone for the rest of the kitchen.
The black metallic elements on the pendant lighting and chairs give the space a casual look and feel. A mash-up of those suave tones
3. Tiny and Inviting
We all know that the modest, personalized, modern white and gold kitchen will never go out of style. White cabinets make this kitchen appear larger and more open, especially when filled with natural light. To create a dignified and beautiful effect, panel the walls with subway tiles in subtle greys and whites.
They are enhanced by sharp straight-angled gray kitchen countertops and symmetrical structural layouts. Specks of bright red for the stovetop utensils, knobs, and handles add a splash of color to this otherwise monotone setting! So The white kitchen is tiny and inviting.
4. In exactly equal parts!
To gain the benefits of grey gold and white colors, you must bring them together in a neutral zone with equal rights! The white cabinets on the upper half and the darker grey and gold kitchen cabinets on the lower half connect in a delightful way, with matching mosaics for the walls in varying tones for both of these colors.
This is a traditional arrangement that perfectly blends both of these great colors. In equal parts grey and kitchen ideas!
5. Delicate environments
The proper combination of wood, glass, and ornamental metal may completely transform the atmosphere of your white gold kitchen in delicate and fragile environments. This is a magnificent combo that combines all these elements allure in a completely harmonious layout.
Read More: Comparison Between Satin Nickel And Brushed Nickel
Decorate the white cabinets parallel with glass panes and polished metallic, particularly brass or gold-toned knobs. Soft metallic pendant lighting for the ceilings ties the entire look together in a delightful bundle!
6. Sensitive environments
Give your cookhouse a self-referential and edge-tactic look by using heavy whites and greys for the background and combining them with sparkling luxury white and gold kitchen, steel plumbing, and revolutionary new faucet designs.
To match the beautiful fittings, choose creamy white cabinet tones or pebble-grays for the counters, adding a rich tone. It is the perfect grey and white kitchen idea for delicate and sensitive environments. Bring an elaborate LED centerpiece for the ceiling to amp up the aesthetic!
7. Stay in every manner
Brass and gold-toned fixtures are ideal for a monochrome scheme. For an all-white or gray-white cookhouse, you simply cannot go wrong with polished brass cabinet handles and knobs! And here's to amplifying it even.
Further: add an elegant and antique touch right where your taste buds feel the love with gorgeous brass stools at the counter and an artistic simple brass pendant for soothing illumination! Also, don't forget to add blooms in bright lilacs or flaming reds to create an everlasting spring in your kitchen!
8. Sophistication with brass!
It's time to stretch your imagination beyond the confines of modern metropolitan designs and integrate a muter and much more soothing style for the scullery! For a panel-tiled floor and walls, pair your gorgeous white cabinets with a more soothing and homey darker grey.
To add a modern, sharp touch, choose polished or brushed metallic finishes on all of your kitchen gadgets and equipment, with a pleasant hint of green residing in a stunning potted plant on the counter.
9. Eternal Glamour Spotless Kitchen
We may lose sleep over our spotless and beautiful white cookhouse, but we'll never get over how wonderfully clean it is. Even though maintaining an all-white design is always a challenge, it is one style that is unquestionably timeless.
A creamy white for the entire room, confidently extended to your countertops and cabinets, can add all the sophistication to the scullery.
10. White kitchen space with rounded or soft edges
If you have a cottage interior with a slanted roof over your kitchen, go with white for the majority of the space. The pastel blue-gray woodwork adds dimension to an otherwise basic kitchen.
Round-edged wall cabinets complement the general structure, and white ceramics for kitchen sinks, especially with a splash of vivid green thrown in for good measure, can make it more lively.
This type of white design for a small kitchen makes it appear larger and reflects a lot of light, creating a cheerful environment! The top cabinets are white, with grey cabinets on the bottom and stainless steel appliances.
11. Wallpaper Design Kitchen
Wallpaper is causing a recovery in the kitchen, thanks to companies like Little Greene and Morris & Co. Kitchen wallpaper ideas include current designs, of course, but those that create the most impression have a heritage appeal — appealing to the urge to make kitchens feel as ornamented as living rooms.
Kitchen wall decor ideas are admittedly difficult – it's critical to ensure that the design you choose is moisture-resistant – or that your decorator has devised a solution for giving the wallpaper.
You've set your heart on some moisture resistance, says Lucy Searle, Editor in Chief of Homes & Gardens. That being said, there are many attractive kitchens – and bathroom–ready designs available that will transform your space from plain to personalized.
12. Rethink kitchen fabrics
If the kitchen ideas in your virtual or physical scrapbook are bursting with pattern and color, your next option could be kitchen curtain ideas. Fabrics, like wallpaper, must be able to endure moisture from cooking, as well as splashes and sticky fingers if you have young children.
And, as in the kitchen above, you may wish to confine curtain materials to a doorway, opting for blinds for more practical window decoration ideas. A simple curtain treatment can make a kitchen feel cozier, more welcoming, and more vibrant. Fabrics can also help with acoustics, which is often a problem in kitchens,' says the designer.
13. Create a chef's kitchen
If you genuinely enjoy cooking, it stands to reason that your kitchen ideas should be centered on functionality first. The growth in interest in chef's kitchens — how they are laid up, the appliances they include, and their practicality-first design approach.
It has resulted from the growing interest in home cooking during the epidemic – and entertaining as we begin to emerge from it. Every item should have a purpose and a location to make the cooking process easy.
You should be able to access whatever you need virtually without thinking about it so that you can focus on visitors as well as cooking,' says chef Galton Blackiston, brand ambassador for kitchen designer Tom Howley.
14. Colors and combining materials
When designing a kitchen, use a combination of colors, materials, and finishes to create a unique style – but, just like in a living room, restrict your palette to one primary color and two accent colors. Use discretion while choosing colors and combining materials.
Read More: 18 Latest Gate Designs For Home
In this lakeside retreat's kitchen, interior designer Brenna Morgan utilized grey as the dominating color in the marble-look island, with black painted cabinets as an accent adjacent to warmer, stained wood cabinetry and vivid turquoise bar stools.
Adopt the Shaker look!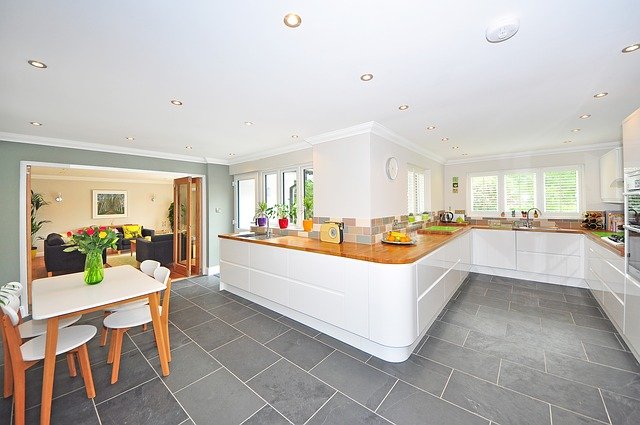 White, Cream, Grey, or neutral-colored with gold are so easy to redecorate around, and if you're building a kitchen to impress prospective home purchasers, you really can't go wrong with these most identifiable American kitchen layouts,' Lucy Searle adds. Shaker kitchens in darker colors, such as black, blue, and green, can also look really stylish for the more daring.