Imagine setting up your whole house and leaving behind your bedroom! It will make vain all your efforts and money. Setting up your bedroom can be the most challenging task ever. With increasing trends and infrastructure ideas, floor bed mattress has gained immense fame among house owners.
There are so many options for bedroom floor ideas. Thus, there are many chances you will get confused while choosing the right choice for your bedroom. No doubt, floor mattresses are derived from the Japanese culture, but these are prevailing worldwide now!
Suppose you are looking for some creative yet good-looking floor bed ideas, congrats! You have got the right platform. We are going to guide you about some best bed setup ideas.
So, let's get started!
Demanding Floor Bed Ideas in 2022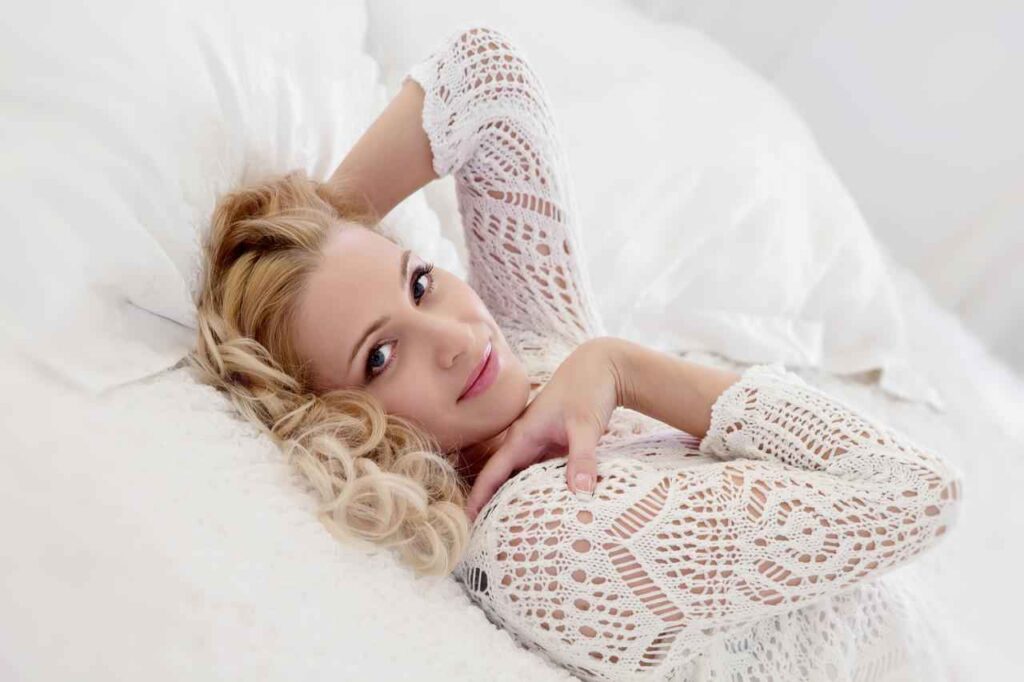 After a detailed analysis and thorough research, our experts have invested their golden hours in listing some of the best floor bed designs in the list below. Let's explore some demanding floor bed design ideas without any further ado!
Traveler's Heaven Low Bed Design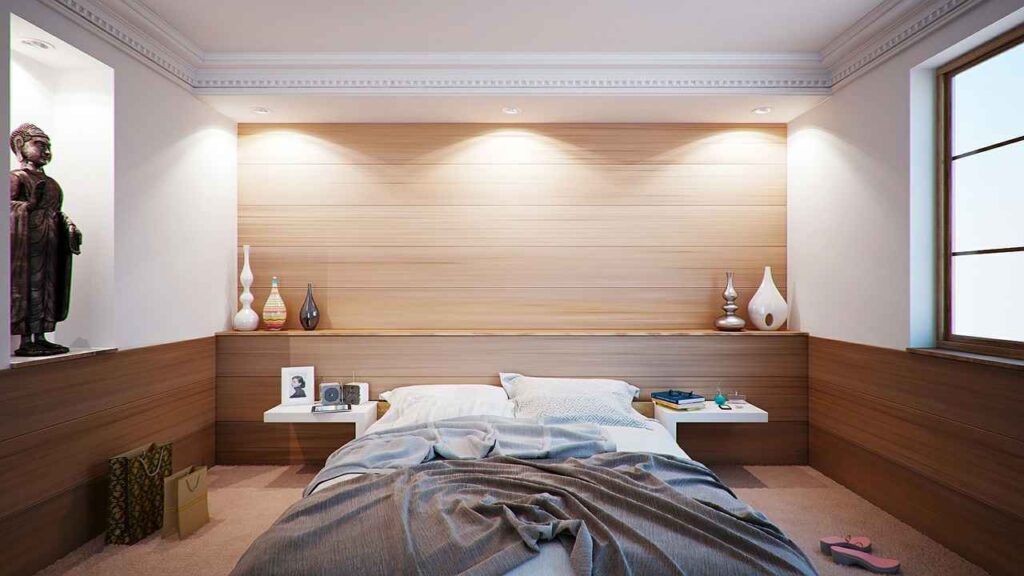 Do you love to travel around the globe? If yes, there are many chances you will set up your room like a traveler. Yes, you caught it right! Most people who love to travel set up the small mattress on the floor. The primary reason behind this preference is that they love to make their home look like hotel rooms.
It looks so well with the grey-blue classic color theme. Most people love to pair this floor bed design with the grey-themed interiors. Some funky lights are also paired up with the room interior. These lights are present on the adjacent sides of the room.
We are sure this floor bed design will stand rightly in all your imagination. You can satisfy all your traveler's expectations by setting up this bedroom design in your house.
One thing to make sure of here is that you can add some handcrafted steel maps on the walls to add much more to the ambiance of your room.
Artistic Beauty
Another fantastic option for floor mattresses on the bed is this artistic beauty. This option seems perfect for those who are artists themselves. The whole theme of this floor bed is based on the thoughts of the architectural artists. It comes with a double-layered floor bed.
Thus, we are sure you will love to sleep on this super soft bed. In addition to this, it offers a peaceful sleep to those who want to sleep right after laying on the bed. The comfort zone that it provides to the users is to that extent that people doze off in seconds.
You can even add wooden paneling on the back of the floor bed. Thus, it will help you create a visual drama around your bedroom. Most people also love to add light-colored ceiling lights to add much more ambiance to the room.
The color theme of the floor bed design comes in grey color. Thus, make sure to add the brown color paneling around it. It will be the perfect combination of grey and brown colors.
The Floyd Platform Bed
Do you love some platform beds that come with a matching headboard? If yes, you must look for the highest quality bed on the floor. You can style it according to your desires. It is made of Birchwood or walnut wood and comes with the highest quality. You can add black or white steel supports to add much more to the artistry of the bed.
One of the fantastic facts about this is that it can help you create a short storage space around it. Thus, you do not need to bother storing your essentials while maintaining the outlook of your bedroom.
You can set this low-profile bed directly on the floor without attaching any stands on the four sides. The ambiance of your bedroom with this floor bed can also be increased by adding complementary lamps on both sides.
In addition, you can add a rug to its front. We are sure that you will love the final result of this infrastructure.
Elegance Personified
Here comes another fantastic option; the low-profile floor beds. It is mainly designed for those who love luxury over anything. One of the best things about this low-profile bed is its extended frame that goes up to the ceiling.
Thus, you will feel like you are living in a luxurious hotel room. The cozy environment of the home is complemented by the addition of contrasting curtains.
This way, you will love to stay in your bedroom for so long. We can use a double mattress on this floor bed. Thus, you do not need to bother about peaceful sleep when you think of adding it to your room. An extensive collection of cushions can also be added to the bed surface.
It will make you feel like a hotel room. Adding a Papasan chair can also increase the overall ambiance of your room. This can be the perfect extension in your room if you love to read books regularly.
Scandinavian Minimalism
It is a soft-cushioned low-floor bed that helps people enjoy minimal addition to their room. The arrangement of the floor bed extends directly to make a demanding study table.
Are you one of those individuals who fall in love with minimalistic architecture? Or are you finding a floor bed idea that satisfies your dream of having a small room with minimal designs and bedding? If yes, our next option is; solely designed to fulfill your needs. It is the perfect definition of more minor is more.
Thus, it can be a perfect combination if you love to study in your bedroom during free hours. Adding a wood panel beside the floor bed never fails to catch the users' attention in no time.
You can even ask your interior designer to add a high-quality textured wall on the back of the bed. This addition will add much more to the overall texture of your bedroom.
Modloft Monroe Bed
It can be the perfect option for those who want to keep things simple yet modern. You do not need to spend extra embellishment on this low-profile floor bed. The overall design of this bed is an exception in itself. Furthermore, there comes a single floating drawer that helps the users to keep their essentials while maintaining the outlook of their house.
In addition, you can add nightstands around it to make it look gorgeous compared to the other options. There is also an extended headboard that never fails to adjust your back when you want to lay on this bed.
The complementary headboard also increases the ambiance of this stunning low-profile bed. Regarding the price range, it is one of those options that easily fit your budget range. So, in this way, you don't have to spend your bucks on purchasing this item.
How to Make a Floor Bed?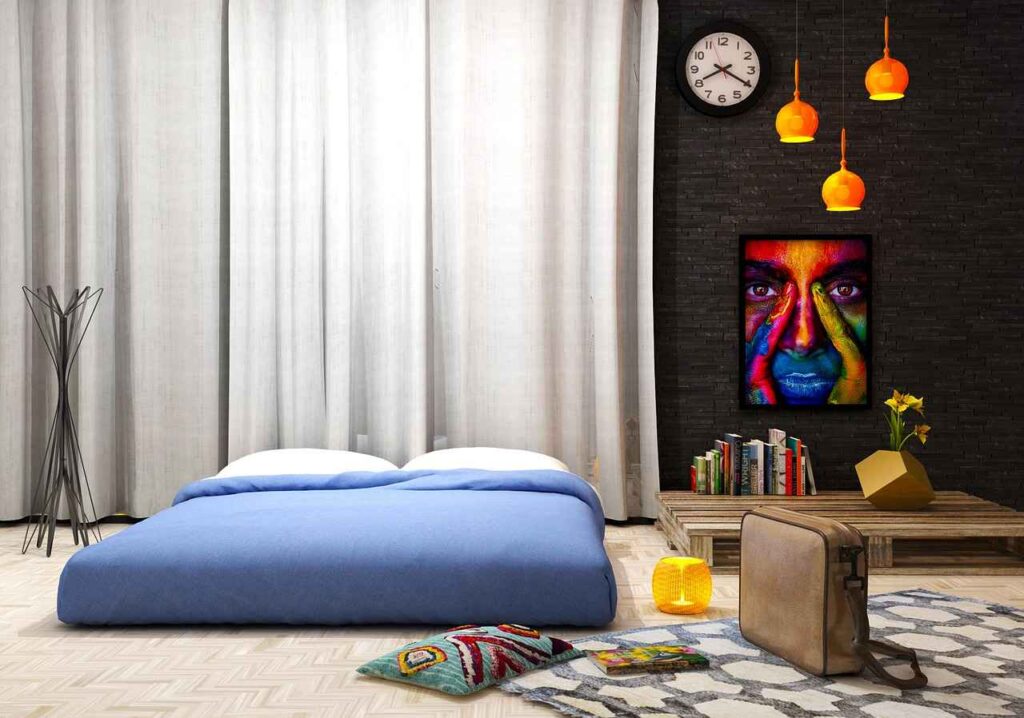 There is no hard and fast rule in making the highest quality floor beds when your mind is full of unique yet creative ideas. Plus, when you think of producing the highest quality floor beds, you can save the money that will be spent on purchasing a new one.
Some of the tips that you need to follow while making the highest quality floor beds are given:
Choose the Right Colors
When thinking about making a floor bed, you need to choose the right type of color that goes rightly with the theme of your room. Try to use monochrome colors if you want a decent color theme in your house. Other than this, off-white beddings also look perfect for the color of your room.
Arrange the Stylish Bedding
The next step in the making of a floor bed is to make it look even more stylish. You can add a ruffled duvet. It will help you make your bedding look better than the simple designs. The luxurious designs are also on the list of top options when you think of making floor bedding.
Add a Canopy Net
Another fantastic tip to add much more to the style of floor beddings is to add a canopy net. It will make the overall outlook look even cozier than before. One of the best things about making a low-profile bed is to purchase the highest quality mattresses.
The right choice of mattress will also make you compliment the infrastructure of your house.
The Bottom Line:
Making low-profile bedding can be one of the most daunting tasks. But, you don't have to bother as we have discussed some of the best options in the list above. You can go through them and select one right choice that gives you the perfect vibe to live in the room.
Read More