Kitchen renovation is something that all of us are perplexed by, even though it is a very easy concept. Updating your kitchen doesn't necessarily mean a whole ripping out of the countertops, island, etc., and changing it all up.
Making your kitchen look more updated can be achieved by simply changing the lighting in the area. A change in lighting can transform the way your kitchen looks, functions, and feels at the same time.
There are light fixtures available for all types of kitchens, specifically to complement individual styles because the lighting is very important for the success of any design scheme. There are many types of kitchen island lighting ideas or types like farmhouse kitchen island lighting, rustic farmhouse kitchen island lighting, modern farmhouse kitchen island lighting, etc.
The lighting fixtures or illumination you choose for your kitchen will have an effect both on the aesthetic and function because it is, after all, a space you frequently use for cooking meals throughout the day and even entertainment. So, keep on reading to learn more about kitchen island light ideas that will transform your cooking space.
A list of the 20 kitchen lighting ideas that will make your cooking space look aesthetically pleasing
Now that you have a general picture of how and in what ways kitchen island lighting ideas can have a transformative effect in your kitchen, let's get into the kitchen lighting ideas. A list of 20 kitchen lighting ideas that you can follow to figure out how to illuminate your cooking space is as follows:
A Pair of Illuminating Lantern Pendants that Emanate Warmth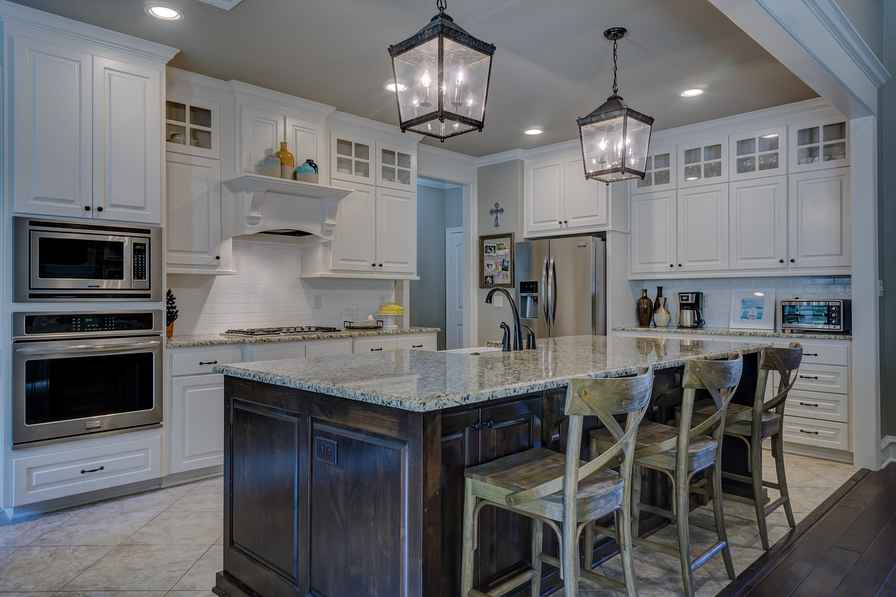 Out of all the kitchen island pendant lighting ideas that exist, lantern pendants absolutely dominate the game with their warm aesthetic and soft illumination. You can use such lantern light fixtures in a cluster of three for the best aesthetic look.
They provide the perfect amount of lighting for prepping food, serving food, or even just socializing. They give the effect of lightweight yet eye-catching decor, which is a stylish interior design for farmhouse island lighting.
A Pair of Sleek and Industrial Black Drop Pendant Lights with a Metallic Interior
If you're someone that enjoys the look of thrifted or salvaged materials, industrial pendant lights are the perfect type of farmhouse kitchen island lights for you. They are the perfect mixture of sleek minimalism and industrial, which will make your kitchen look sophisticated.
Choosing an industrial pair of lights that are black drop pendants with a metallic, specifically gold interior can bring the perfect pop of contrast to your kitchen. Because the lights have a gold leafed or metallic interior, they will emanate a warm glow in your kitchen that will feel cozy.
Modern Pendants with an Aged Metal Hold and Shades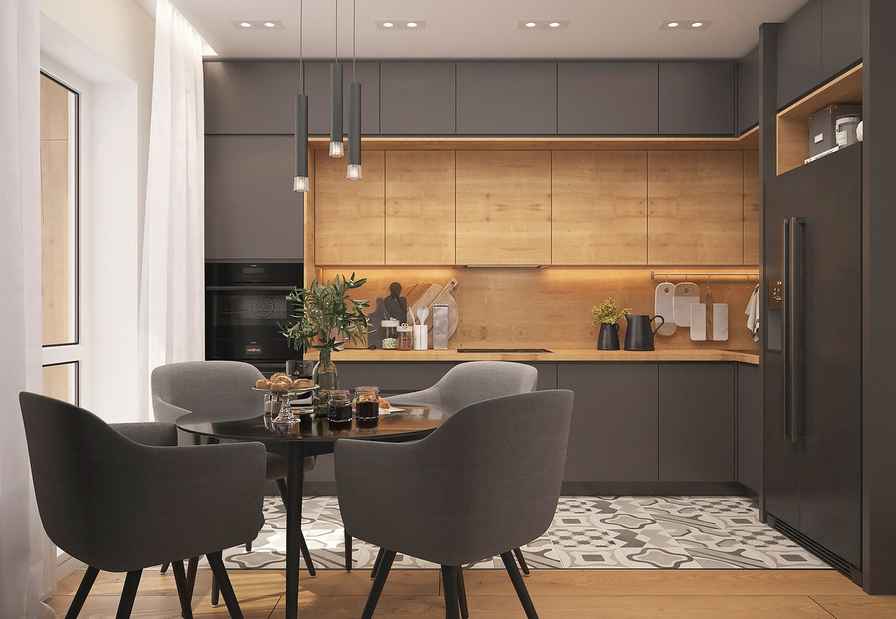 Aged metal holds are a great addition as decor or lighting for any type of kitchen, regardless of the theme and aesthetics it is set in. They give both a modern yet sophisticated look to your kitchen island, specifically the pendant light fixtures type, making it look more casual and homely.
No matter how big or small, pendant lights with an aged metal hold like aged brass and shades colored white are the perfect type of farmhouse island lighting. They provide just the right amount of ambience because of the shades, which diffuse the harsh lighting and cast a soft glow in your kitchen.
Wooden Chandeliers that are Cottage and Country Themed
If you like the country cottage core enchantment aesthetic, chandeliers are the best type of farmhouse island lights for your kitchen. The handcrafted wooden chandeliers are the perfect addition for that simplistic yet elegant look to brighten your kitchen island.
These types of suspended wooden chandeliers generally come with three pendant lighting fixtures inside, which makes them emanate a magical elegance to your kitchen's interior. Because of the light fixtures inside the wooden chandeliers, plenty of light is provided all around your kitchen in beams of pure brightness, which makes it one of the best kitchen island chandelier ideas.
Usage of Rustic Elements for the Basic Charming Kitchen Vibes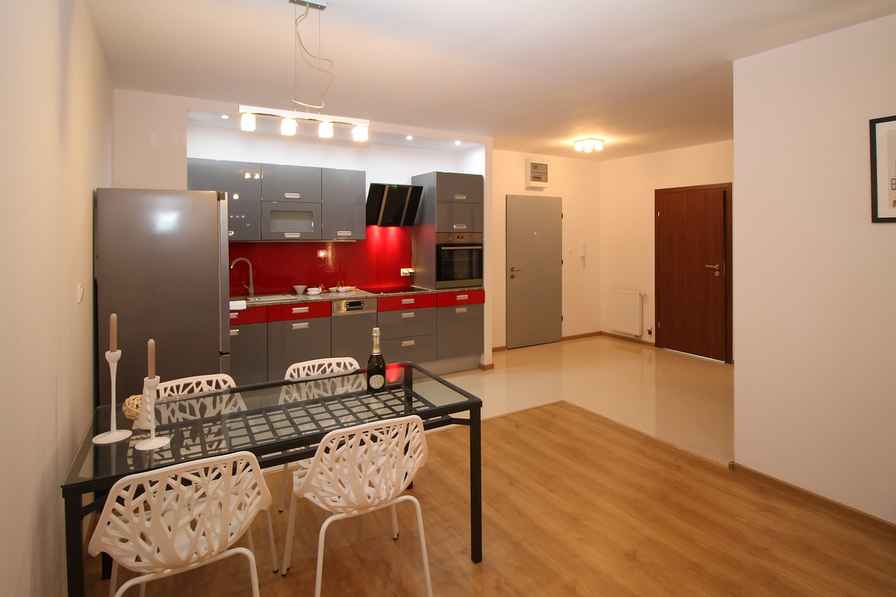 Antique looking or rustic kitchen island light fixtures are indeed one of the best types of lighting you can use for your kitchen. They are very simplistic forms of kitchen decor, but they easily alleviate the bland kitchen decor to a more casually elegant and industrial looking aesthetic.
Using a pair of round barn style farmhouse island pendant lights that have primitive modes drawn on the surface lends a look of casual simplicity, which compliment a neutral scheme in the kitchen. The round barn style island kitchen lights provide a reinforcing sort of illumination which is perfect for a cozy conversation between people alongside prepping meals and other activities in your kitchen.
Three Pendant Styles of Industrial Lighting that is Vintage and Chic
We've discussed about using three farmhouse kitchen island lights that are pendants earlier in the article, but this is a more daringly vintage approach to that same idea. This time around, the kitchen island pendant light ideas we're talking about are a mixture of purely industrial aluminum frames with grand vintage chic chandelier crystal droppings from the interior of the light fixture.
This daring and eye catching duo of aesthetics makes for a dynamic type of light fixture. The pendant light is suspended from the ceiling with a mixture of thick brackets, wires, and chains which reinforces its industrial aesthetic.
While the primary impression of the pendant light is basic industrial, the grand vintage display of ornate chandelier crystals hanging from underneath the pendant light makes it look like a displaced piece of rebellious art. It provides an eccentric sort of illumination with its dark exterior and extremely bright interior, and the crystals let out small spots of glittery lights along with basic illumination.
Using Vintage Decor and Accents for a Black Kitchen Island
Let's be honest; black is a universally flattering color for any area or aesthetic because it is simply just so versatile. When it comes to a kitchen with a black theme, we can't pair it with dark lighting because that won't make the black aesthetic stand out.
In that case, vintage embellishments are the best way to go, as it compliments and enhances black in a distinctive way. Vintage decor stands out against black themes and enhances the color in a classy and elegant form which is pleasing to the person that enjoys dark aesthetics.
Using box framed lighting pendants that are made of vintage metal frames like copper can really illuminate a black themed kitchen in a way no other can. Such a phenomenon is achievable because the black kitchen will reflect the lights of the vintage pendant lights back, making the beams of light illuminate the kitchen in a smooth manner.
Using Silver Accents in a White Themed Kitchen for a Sedated and Muted Look
Just like how black is a versatile, elegant, and aesthetic color, so is white but in an opposite manner. While black gives off dark and sophisticated elegance vibes, white gives off a calm and sedated pristine elegance vibe.
For people who enjoy minimalism and calm vibes, a pristine white themed kitchen is the perfect type to choose. For a white themed kitchen, the light fixtures have to follow the monotone theme, which is calm, pristine, and sedated.
So choosing a pair of white framed pendant light fixtures will compliment the kitchen in the best way possible. A pair of white framed lights with silver fastenings and rims can truly elevate and uplift the kitchen's calm vibes. Silver is a pleasing and pristine metallic color, and such a pendant light will reflect soothing illumination, which is perfect for the kitchen's theme.
Embracing the Classic Farmhouse Design with Hints of Shabby yet Chic Elegance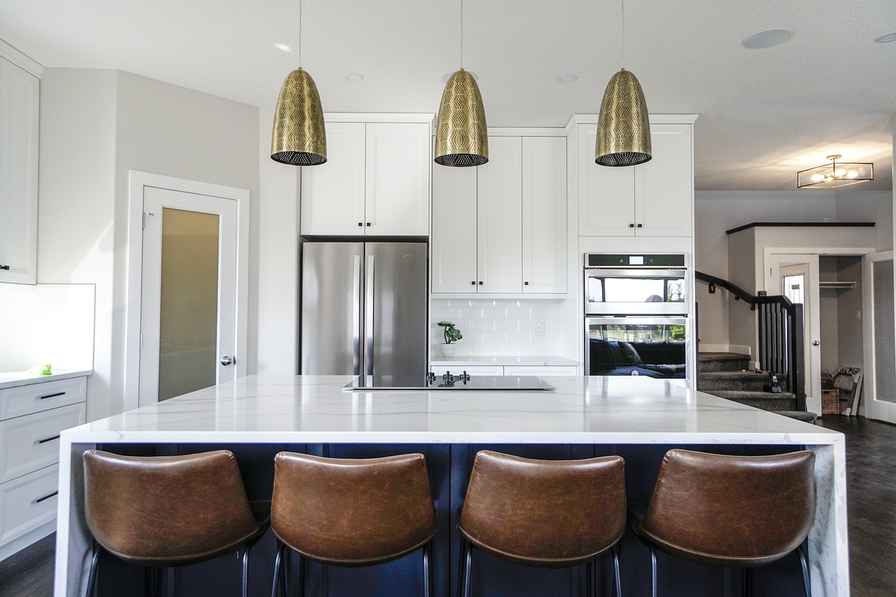 When we think about the classic Farmhouse design, we think of simple, clean lines and a rustic shabby, yet chic style. So, when it comes to creating a farmhouse kitchen, you need to think about the aesthetic and rustic farmhouse kitchen lighting ideas.
When it comes to the color theme, it's always safe to choose white and neutral colors for a farmhouse kitchen, while for the decor, barn style rustic styles are the best complimenting ones. As for the kitchen island lighting farmhouse style, there are various types of farmhouse kitchen island lights that can be used in the kitchen.
The best type of lighting for a farmhouse kitchen island pendant light is, without any doubt, rustic framed pendant light fixtures that can be suspended above the farmhouse kitchen island. Using ornate rustic pendant lights screams the aesthetic of kitchen island pendant lights farmhouse style.
Opting for a pair of vintage antique metal and ornate rustic chandeliers framed pendant light fixtures for farmhouse lighting over island can really tie in the aesthetic and vibes of the cottage core farmhouse kitchen. Vintage and antique grandeur light fixtures being used in a cottage core farmhouse kitchen lend a shabby vintage fashion vibe which makes for the perfect ambience.
Using an Open Frame Linear Lighting Fixture for a Rustic Look 
If anyone was ever told to capture the essence of the rustic barn style farmhouse design into a light fixture, this kitchen island pendant light we're going to talk about is the very image of it. Open frame lighting fixtures with the light source framed inside in a rustic style truly represent and elevate the basic farmhouse kitchen to the next level.
Using an individual open frame linear chandelier like lighting fixture suspended from the ceiling over the kitchen island is perfect for the classic rustic farmhouse style kitchen. The light fixture's light source looks like three little candles in their spots, emanating bright streaks of light all over the kitchen, providing a very eccentric ambiance.
Pendant Lights featuring Black Frames for that Charming Aesthetic 
As much as some people like a calm and sedate environment, they also like statement pieces to stand out and contrast the rest of the image. Just like that, in a pristine white and neutral theme kitchen, using contrasting shades of lighting can act as a major point of charming attraction.
Using a pair of black metal framed pendant light fixtures in a white and neutral scheme kitchen can look like creative artistry and provide a very charming effect on guests. The linear silhouette of open frame pendant lights with candle like light sources inside emanating soft white light in the kitchen gives off a very charming vibe which is the best type of contrasting centerpiece that you can use for your otherwise basic kitchen.
Wooden Framed Open Sphere Lighting for Cottage Core Kitchen Decor 
After pristine white themed kitchens, cottage core themed kitchens take second place for the most calm and cozy aesthetic. Cottage core farmhouse designs are the very definition of warmth and homely aesthetics.
Using a pair of wooden light fixtures in a cottage core themed kitchen is the best thing you can do because natural wood decor adds to the homely aesthetic. On top of that, opting for open sphere wooden framed pendant lights will complete the feel of the comfortable allure of the cottage core farmhouse kitchen.
The intertwining look of the open sphere wooden framed pendant lights with wrought iron fastenings and hooks to suspend it from the ceiling makes it a very cozy looking light fixture. Its internal light source being light holders with lantern like bulbs, provide a warm ambience to the cottage core farmhouse kitchen, elevating the kitchen to the next level and making it one of the best kitchen lighting ideas.
Using Lantern Pendant Light Over Island in Handsome Black Coloring 
In the present 21st century, this generation is obsessed with the color black, and we really can't blame them because it truly is a phenomenally handsome and versatile color. Out of all the modern kitchen island lighting ideas, the ideas that use light fixtures in the color black are just, in simple words, one of the most elite kitchen lighting ideas.
No matter which theme or color scheme your kitchen is, opting for a black framed or colored pendant light fixture over your kitchen island can just take your kitchen's aesthetic to the next level. Black being such a dark color, can stand out against all color schemes and provide a major point of attraction to your kitchen alongside a stunning ambience.
Using a pair of pendant lights with black metal open frames displaying singular bulb light sources just adds a charming effect to your kitchen with minimal effort. The singular light bulb emanates plenty of bright rays of light that illuminate the kitchen and makes everything inside pop in a brilliant way.
Gold Metalwork Island Pendant Chandelier Lights for the Royal Elegance 
While cottage core farmhouse kitchens, pristine white themed kitchens, dark elegance black themed kitchens, etc., are quite the rave nowadays, royal elegance is still a well loved and renowned aesthetic. Royal or regal elegance is in the line of front runners for its unbeatable elegance and glamour.
When it comes to choosing kitchen lighting ideas for a royal and elegant themed kitchen, the first thought that generally comes to our mind is gold! So, opting for gold metal work pendant lights is the right way to go, but that isn't enough now, is it?
Using a pair of chandelier like pendant lights with gold metal work that has an open frame is the best creative choice you can make in choosing kitchen light fixtures for your royal and elegant kitchen theme. The gold metal work light fixtures having two light holders with lantern like bulbs on them provide an exquisite source of lighting that illuminates the kitchen with partial gold reflections from the gold metal work frame of the chandelier like pendant lights.
Using Modern Framed Magnetic Star Chandelier Lights for Glamour
Now, out of all the modern lighting ideas over kitchen island that have been discussed before, none of them included a lighting idea like the one we're about to show you now. While chandelier like pendant lights are targeted more towards the regal, elegant themed kitchens, the modern take on chandelier pendant lights is something of a novelty.
Using a pair of open framed modern chandelier like squared pendant lights which have a magnetic star trapped in the middle as the source of generous illumination is the perfect way to elevate your modern kitchen and take it to the next level. They are a dominating statement piece of resplendent and abstract decor over the prepping station, i.e., the kitchen island, because of their metallic frame.
Round Kitchen Island Pendants in Black for that Chic Elegance 
So far, all the kitchen island pendant light ideas that we have talked about have been relatively big in size. While larger light fixtures are aesthetic and work as a fantastic illumination source, light fixtures smaller in size also provide plenty of illumination.
Although small in size, using a dynamic pair of stylish pendant lights that are black in color can have a considerable influence on the overall aesthetic of your kitchen, making it seem more sleek and unique. In fact, the black pendant light fixtures being set against a basic themed kitchen makes it stand out, and it dominates the whole kitchen scene with its charming essence.
The small kitchen island pendant lights provide just the right amount of illumination over your food prepping station, i.e., the kitchen island. The black drop pendant lights accentuate and enhance all the features of the basic themed kitchen and make it look more chic.
Square Wooden Framed Lantern Style Kitchen Island Lights 
We have talked about wooden framed light fixtures a few times above, but this one is a very modern yet rustic barn style type of light fixture that gives off fashionable farmhouse vibes. Square open frame light fixtures provide a reinforced shabby and chic vibe to the basic kitchen, which is one of the most perfect kitchen lighting ideas.
Using a pair of dynamic square open wooden framed light fixtures with a lantern like bulb light source can create a very chic environment for your kitchen. Having this pair of pendant light fixtures over your kitchen island provides a good amount of direct light for food prepping and serving snacks, drinks, or meals.
Simplistic yet Elegant DIY Wooden Framed Lantern with a Candelabra Inside
While buying premade decor and embellishments for renovating your dwelling space is easy and quick, nothing quite beats the feeling of creating your own decor from scratch. It adds an extra homely feeling to the decor; wherever it is placed feels special and like a proud moment being revisited.
Just like that, DIY'ing your own kitchen island light fixtures can add that extra touch of personality to your kitchen. Making a wooden framed box lantern light with a candelabra Inside from scratch at home to serve as your light fixture for over your kitchen island can look absolutely fantastic.
It is very easy to make, and you only need three simple black candelabras adorned with lights and dark wood rectangular frames, which you can then assemble however you like to create an open wooden framed square light fixture with candelabras as a light source. Afterwards, you can use thick black metal and chains to support the wooden light fixture and suspend it from the ceiling over your kitchen island.
Not only will it be perfect for the rustic barn style farmhouse design, but it will complement and enhance the look of your cottage core themed farmhouse kitchen very well. It will provide a unique ambience to your kitchen, which is perfect for prepping food and eating meals on your kitchen island, alongside spending a relaxing time socializing in your kitchen.
Glass Sphere Shaped Open Pendants as Kitchen Island Lights 
Nothing is as alluring as a sparkling and bright transparent glass fixture, am I right? Just like how a wall filled with wine glasses or a beam with hanging cocktail glasses allures us, so do glass light fixtures.
Using a pair of glass sphere shaped pendant light fixtures with an open mouth that is down turned, i.e., like an inverted goblet, can have the effect of lasting allure in your kitchen, regardless of the aesthetic and color scheme. The glass sphere shaped pendant light fixtures with a lantern like bulb inside for a light source provides a very eccentric ambience because the transparent glass reflects the beams of light and creates a glittering atmosphere in your kitchen.
Using these inverted goblet style glass pendant light fixtures suspended over your kitchen island in a group of three adds direct central illumination, which is perfect for prepping food ingredients and making meals. The glitter ambience of the glass pendant light fixtures will also be amplified if you use a trio of them, resulting in your kitchen looking ethereal.
Using Graceful and Small Pendant Lights in an Open Concept Kitchen 
Seemingly, having an enclosed space dedicated to a kitchen is all the rave nowadays amongst everyone. But the minority that enjoys open concept kitchens know how amazing it is to have their cooking space set in an open, flexible environment.
Open concept kitchens leave a lot of room to let your creativity shine as it's a unique layout for a kitchen, which allows your creative juices to flow to the fullest extent. The best way to utilize an open concept kitchen that connects with the family space is to give it a warm and refreshing atmospheric theme.
You can start doing so by using cozy decor for the aesthetic and warm tones for the color scheme of the kitchen. As for kitchen lighting ideas, following the same warm and refreshing atmospheric theme, opting for kitchen island pendant light fixtures would be the best way to go.
Using a pair of black barn style drop pendant light fixtures over your kitchen island can help highlight your open concept kitchen and give it a refreshing aesthetic. Positioning them dead center over your kitchen island will provide a sufficient amount of direct lighting for all of your kitchen activities, like prepping meals and washing dishes.
Conclusion
As mentioned before, updating your kitchen is really not an arduous task and does not require you to completely rip it apart and start from scratch. Updating your kitchen is as simple as just simply changing the lighting in it.
If you're unsure how exactly to tackle this lighting change or what you want to do with the lighting, this article is the one for you because we have covered 20 kitchen lighting ideas that will make your job easier. You're sure to find something you like to show your interior designer for reference or at least some inspiration which you can tweak and change to your desire.
Kitchen lighting has to be chosen based on task performing ability, mood influence, and feature enhancement. Make sure to keep these three things in mind when you choose the type of lighting for your kitchen space during the renovation.
So, stop procrastinating and start working on your kitchen renovation job by choosing one of the 20 kitchen lighting ideas that will make your cooking space look aesthetically pleasing!
Read More